Thank you to 29 universities across the country who all came together for NSVW 2019 to recognise the efforts of many amazing student volunteers.
From 12 – 18 August 2019, volunteers from Perth to Brisbane, from Darwin to Tasmania and everywhere in between were praised for their positive work and impact in their communities. With #NSVW19 done and dusted for another year, let's look back on how student volunteers were celebrated.
But first, the team at NSVW would like to extend our gratitude and give every single person who joined #NSVW19 a big shout out! We had 29 universities and many other organisations participating in 77 events across the country to celebrate student volunteers and to get involved in the community.
---
Australian National University
ANU+ kicked off #NSVW19 with their 'Bank' Your Volunteer Hours Challenge. Volunteers were challenged to volunteer between 1 August – 18 August with every hour 'banked', a goodie would be added to their challenge tracker. The volunteer with the most hours submitted won a delicious goodie bag of chocolates. Yum!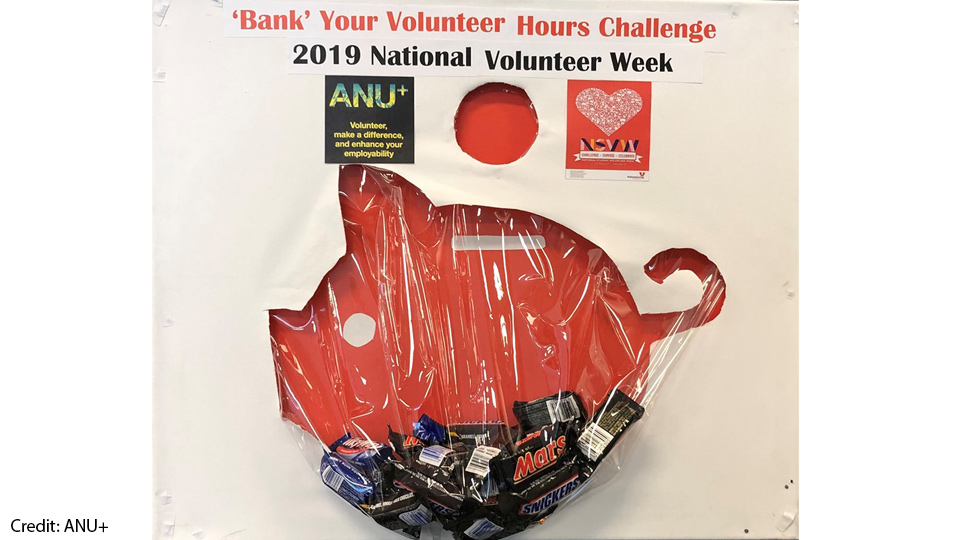 ---
Central Queensland University 
At Central Queensland University's (CQU) Melbourne campus, CQU held their Volunteering for Career Success workshop where CQU students shared their experiences of volunteering and the benefits they gained helping others. Prospective volunteers heard stories from current volunteers and where they could go to find amazing volunteering opportunities.
---
Charles Darwin University 
At Charles Darwin University (CDU) up in Darwin, CDU Student Ambassadors and the CDU Careers and Employment office teamed up and held their Hands Up Expo to promote volunteering opportunities to CDU students and staff.
---
Western Australia Unite!
Curtin University/University of Western Australia/University of Notre Dame/Edith Cowan University/Murdoch University 
For yet another year, Western Australian universities joined forces with Perth NRM, in huge numbers, to help clean up one of the state's most beautiful beaches, C Y O'Connor Beach. 100 students from Curtin University, University of Western Australia, University of Notre Dame, Edith Cowan University and Murdoch University collected 37kg of rubbish and removed two tonnes of invasive weeds.
The team only left a few things behind: beautiful artworks in the sand with a strong conservation message.
---
Deakin University 
Deakin Volunteer Society gave a shout out to all their volunteers for their hard work for the Society and for their local communities.
---
Edith Cowan University 
Edith Cowan University (ECU) held volunteer expos across all three campuses. ECU Student Volunteers also prepared and served food to people experiencing homelessness in Perth. They also collected toiletries for their outreach service, and unused sports equipment for Fair Game Australia.
City of Swan Council also visited ECU'S Mount Lawley campus and chatted to ECU students about volunteering with the Council.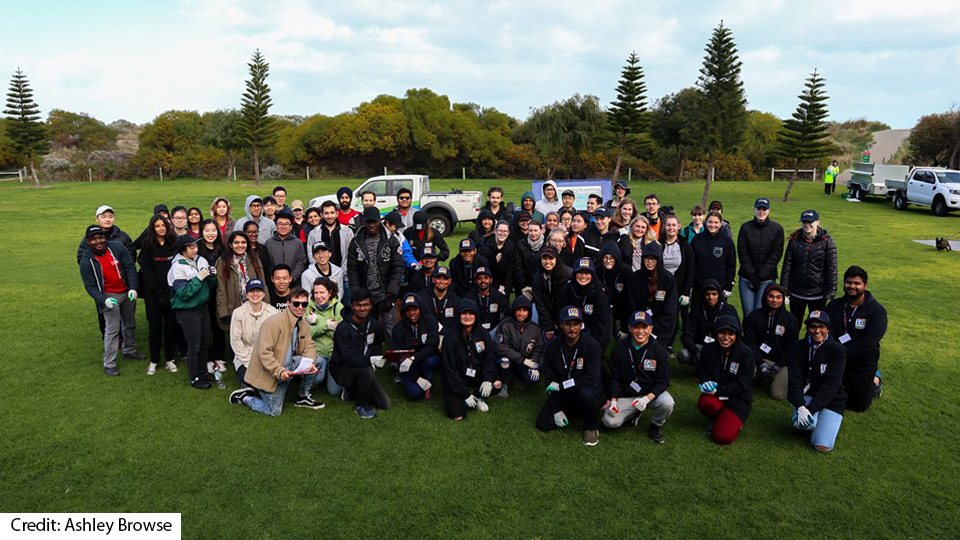 ---
Federation University 
Federation University held a mini expo for students at their Berwick Campus where they connected with local non-profits offering various volunteering roles. They also celebrated all the hard work of student volunteers across their International Student Buddy Program, Student Senate, and Federation Uni clubs and sporting teams on Facebook.
---
Flinders University 
Flinders University held a morning tea to celebrate all the great things Flinders student volunteers have done for the university. Congratulations to Cassie Hoepner for taking the Flinders People's Choice Award for #NSVW19. Great work!
Here's what Cassie has to say:
"I have been a volunteer at the Australian Marine Wildlife and Research & Rescue Organisation for the past five years. I first became a volunteer while completing my undergrad in Marine Biology at Flinders University to gain more hands-on experience.
"During this time, I have participated in many rescues and releases of local marine wildlife, particularly seals and seabirds. My role mainly consists of daily care, feeding and husbandry of in care patients and lots and lots of cleaning!
"Being able to witness the release of animals we have cared for and knowing that I am contributing to the protection of our unique marine wildlife has encouraged me to make volunteering a priority over the last few years while balancing study and work.
"AMWRRO has become like an extended family to me and the amazing work done by this volunteer-run organisation has helped the lives of thousands of injured and sick marine wildlife within South Australia as well as interstate and internationally responding when required."
---
Griffith University 
Mentoring at Griffith ran a campaign to recognise the contributions of their student mentors and leaders who number nearly 1,000 volunteers each year. Student mentors play an important role at Griffith University in assisting other students to successfully transition into student life and to achieve their academic goals.
---
Macquarie University 
Macquarie University said thank you to their volunteers with a relaxing evening of networking, guest speakers, and food and games. Volunteers also got the opportunity to have a professional LinkedIn photo taken.
---
Monash University 
It was a big #NSVW19 down at Monash University as Monash Student Association Volunteers celebrated NSVW across four packed days including volunteer information sessions, micro volunteering, a volunteer mixer, free breakfast and afternoon tea, and workshops on how to translate volunteer experience into employment. Volunteers also received headshots taken by other fellow volunteers.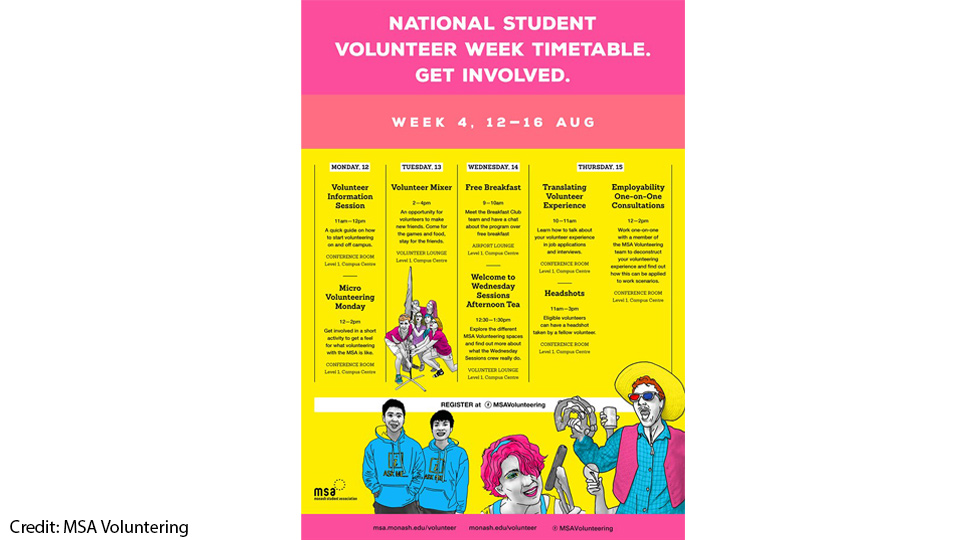 ---
Queensland University of Technology 
In Brisbane, QUT Guild gave a shout out to all their hard-working volunteers across QUT's campuses. QUT also held a social Thank You Dinner for all their QUT Connect volunteers.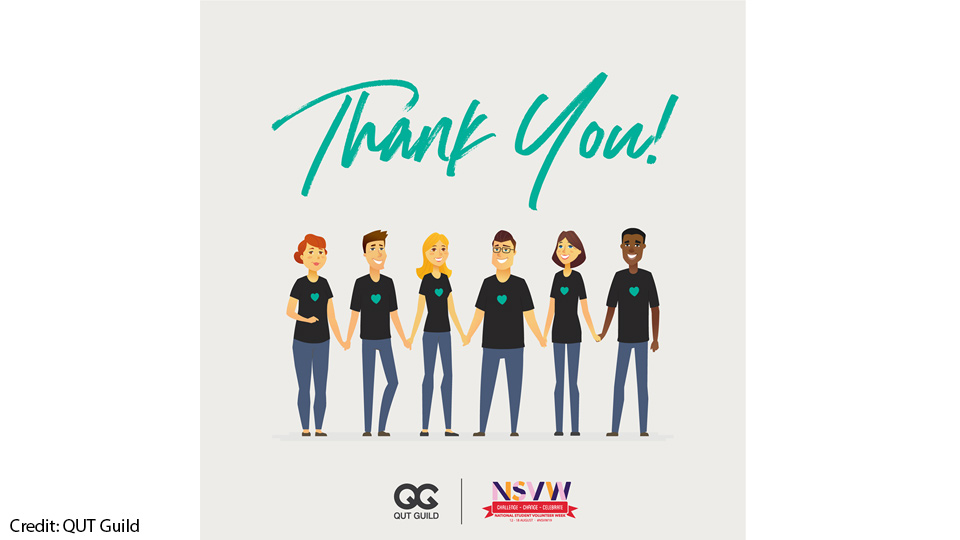 ---
RMIT University 
Across four days RMIT hosted various events with a range of different organisations for students looking to apply to be a volunteer. The organisations included: The Bicycle Network, The Brunswick Tool Library, Cause Corps, and Fitted for Work.
---
Swinburne University 
Swinburne hosted a free lunch for their Student Life volunteers to recognise their contributions and all the great things volunteers have done for others on campus. They also gave shout outs for #NSVW19 in a series of short videos with past and present volunteers talking about how they were absolutely inspired to donate their time back to society and how volunteering made a positive impact on their lives and made them feel a part of something bigger.
Aditya Shah, a Masters student in Business Information Systems, volunteered at the State Library of Victoria and was afforded other opportunities to volunteer by Swinburne Student Life. As Aditya put it "you are giving a lot of things to society and you are getting back happiness and joy from the people you are helping too." 
Angus Maiden, a now graduated Bachelor of Business (Accounting), volunteered as a tax help volunteer which led to his current position at the Australian Tax Office. Angus says "it gave me a drive to continue when things got tough...I might have just thrown in the towel. It really gave me the drive to just keep going and finish my degree." Good on ya, Angus! 
Osama, a psychology/criminology student, volunteered with the Swinburne Student Life Team saying "you might actually change a life." 
Sabina, a neuroscience student, volunteered a massive 180 hours. She reflected on all the great things volunteering has done for her, from gaining experience to help get a part-time job to "the friends that you make and experiences that you get." 
Jenna, who studies a Bachelor of Media and Communications, volunteers for the Swinburne Student Life marketing team where she gained relevant experience and skills for a career in creating videos for the organisation. "There are definitely opportunities that are really worth pursuing", Jenna says. 
Freddie Fraser, studying Aviation Management and Business, signed up for Swinburne's Mentor program which left such an impact on him. He has donated 106 hours of his time to volunteer and help his fellow students. Freddie says he could "see himself helping other people throughout my career." Fantastic Freddie! 
---
University of Adelaide 
University of Adelaide had a very successful #NSVW19 with a Pop-up Volunteering Stall where over 200 students visited to learn more about volunteering opportunities available to them. Over 70 students attended an afternoon tea event with the Lord Mayor of Adelaide while during their Open Day, 50 students volunteered. Great work!
---
University of Melbourne 
The University of Melbourne celebrated #NSVW19 as part of their Employability Week by hearing about the achievements of student volunteers and all the positive things volunteering does at a personal level and for the wider community. 
---
University of Newcastle 
It was a successful #NSVW19 at the University of Newcastle with a Volunteer Expo held at their Central Coast campus where ten local non-profit organisations were invited to promote their volunteering opportunities to skilled Newcastle students. Over 100 students attended the Expo, each non-profit gained roughly 10-15 new volunteers while the university gained over 30 new registrations for their volunteer program, but also importantly: free donuts!
---
University of New South Wales 
ARC UNSW Student Life made a great video about UNSW Volunteers and why they volunteer. Check it out below!
---
University of Notre Dame 
The University of Notre Dame had a huge #NSVW19 with six events across the week: 
The week began with Days for Girls Sewing Day alongside Days for Girls, 16 Notre Dame students helped stitch reusable pads and care packages for young girls in developing countries.
Then their Open Day invited high school students to experience the university for a day. 21 wonderful volunteers shared their Notre Dame stories and helped on the day. 
Next, the Notre Dame Volunteer Network had their Bump Into Plunge In which is a weekly stall beside free tea and coffee in a campus courtyard to promote and invite students to join NDVN in upcoming volunteer events!
Wilderness Day was a day of adventure in the beautiful bush in Serpentine, that invited NDVN volunteers to assist young students who are new to the country, most of whom are of refugee background, with fun activities.
And Inter-university activity saw 20 NDVN volunteers join students from Curtin, UWA, Edith Cowan, and Murdoch University to help restore the beautiful C Y O'Connor Reserve.
They capped off a big #NSVW19 with Teach Learn Grow eMentor Training Day where NDVN volunteers attended training to prepare them for the 8 week-long eMentor program occurring on Notre Dame campus. The eMentor program involves online mentoring, delivered to students in rural areas across Australia, to encourage students to reach their full educational potential.
---
University of Queensland 
University of Queensland marked #NSVW19 with a social media campaign on Facebook and Instagram giving thanks to all the important things UQ volunteers give to the university.
---
University of Southern Queensland 
University of Southern Queensland marked #NSVW19 across their Springfield and Ipswich campuses and online with multiple events. 
USQ Student Life invited student volunteers to a pizza lunch to acknowledge their contribution to the university.
Online and on campus, USQ showcased a volunteer organisation or opportunity every day of #NSVW19 to show USQ students the world of volunteering opportunities. They also provided useful tips and resources on finding volunteer work and the benefits of volunteering.  
Finally, USQ Careers and Employability presented to USQ Human Services students on the importance of volunteering for their future careers and employability. 
---
University of Sydney 
University of Sydney Union (USU) gave a shout out to their V Team volunteers on Facebook and Twitter. The V Team volunteers all gave a whopping 1,107 hours of their time to volunteer for the Union in Semester One. Wow!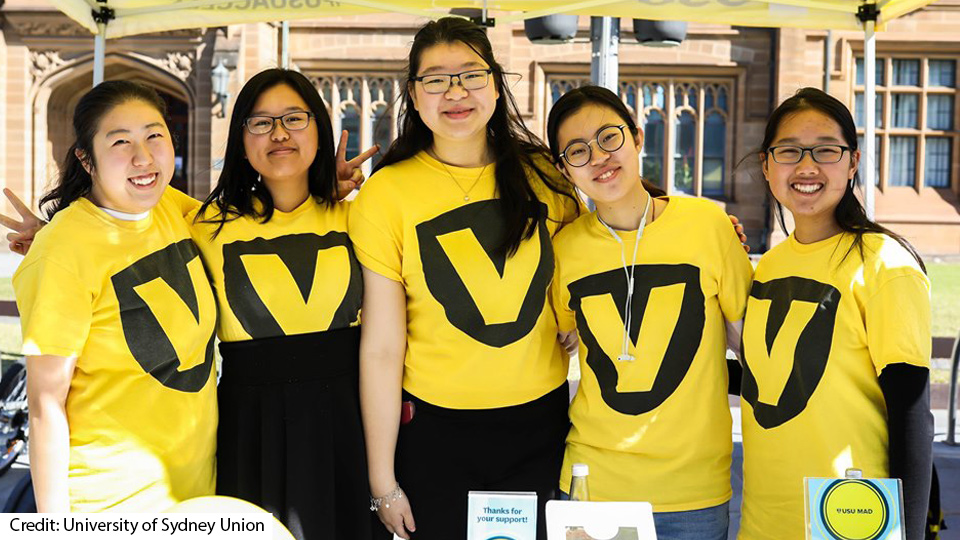 ---
University of Tasmania 
They rang in #NSVW19 in the Apple Isle with a video by UTASLife volunteers telling their stories about positive things volunteering on campus has done for them. University of Tasmania also held various volunteering expos across their campuses around the state.
---
University of Technology, Sydney 
UTS:SOUL (Social Outcomes through University Leadership) held Finding Your Fit: Volunteering for not-for-profits, a special event with UTS Careers with information, skills and activities and a volunteer manager panel with Anti-Slavery Australia, Cancer Council and 2SER.
---
University of Western Australia 
UWA Guild Volunteering with their Women's Department organised a micro volunteering session to make hygiene packs for Ruah Community Services to donate to women. They held volunteer information sessions for WA AIDS Council and ran a safe sex pack making micro volunteering event. They also hosted a beach clean up outside UWA's Albany campus and ran a competition to give one student the chance to win one kilogram of Fairtrade, organic, Belgian Chocolate, which was won by Tanya Antero. Delicious! 
They also held the UWA Student Volunteer Awards to recognise the contributions UWA student volunteers and clubs give to the university and the wider WA community.
Students also volunteered at Foodbank WA and Ronald McDonald House for #NSVW19.
---
University of Wollongong 
UniLife celebrated the contribution of student volunteers that helped them make so many events successful throughout the year. 
---
Victoria University 
In Melbourne, Victoria University held a Thank You Morning Tea for their student volunteers and used #NSVW19 to raise awareness of how important and fantastic volunteering is to get more VU students to be a VU Vollie and a V4U Day volunteer. Across social media and email, Victoria University thanked their volunteers for a job well done.
---
Western Sydney University 
In Sydney's West, Western Sydney University students shared their volunteering stories with other students. They discussed their times volunteering with the university and with the wider community and how it helped them become a more well-rounded person. 
---
Bendigo TAFE 
At Bendigo TAFE, students were presented with a certificate of appreciation at a special event held on campus during #NSVW19. 
---
Conservation Volunteers Australia 
It was a huge effort by Conservation Volunteers Australia (CVA) across coastal Queensland and New South Wales with six events, from tropical North Queensland to pristine Northern New South Wales, all to help protect the local environment. 
CVA held their Beach Scrub Project in Townsville where volunteers helped protect the delicate ecosystem of animal and plant life by removing weeds and debris from beaches near the area.
In Lennox Head, NSW, CVA volunteers worked with local Indigenous communities in the management of Sea Country to remove weeds and rubbish along sand dunes and beaches to preserve Indigenous cultural heritage. 
They 'Reveged' the Richmond River near Lismore through planting tubestock to re-establish the area's native vegetation and removing weeds to combat the serious issues facing the river's water quality, soil deficiency and erosion. 
CVA also recognised the importance of volunteer well-being with their Well-being in Nature program. Participants engaged in nature-based activities, such as growing seedlings, dune revegetation, and native plant and wildlife care education. Volunteers got the chance to make a positive difference for the environment and to meet other like-minded environmentally conscious people in the beautiful and tranquil settings of Pottsville coastline and Sharps Beach in NSW.
---
Department for Education in South Australia 
Last but not least, the Department of Education in South Australia held their Implementing Student Volunteering workshop where staff were provided with support to implement the Department's new teacher toolkit to support educators to embed volunteering principles and practices into the classroom. The online toolkit provides templates, lesson plans and a host of other valuable information to build on current volunteering students are undertaking or to create new volunteer programs which link to the Australian curriculum.
They hosted this event at the Café Outside the Square, a social enterprise, who pay it forward to individuals who are experiencing homelessness, to keep in line with the theme of volunteering and helping others.
---
From the bottom of our hearts, we would like to give a big thank you to every person and organisation who contributed to #NSVW19, no matter how big or small, and made it such a fun and meaningful week!
If you have any feedback you would like to give us for next National Student Volunteer Week, we would love to hear it so we can make #NSVW20 even bigger and better.