We are proud to announce this year we have had the most universities involved in NSVW! See what happened during the week! 
From 13 – 19 August 2018, students across Australia were encouraged to step out of their comfort zone to #ChallengeYourself, #BeTheChange, and #CelebrateEachOther. With National Student Volunteer Week 2018 officially over, it's time to look back at how student volunteers were able to make a change throughout the country!
The NSVW team would firstly like to send out a big THANK YOU to everyone that participated – with your effort and support you have made National Student Volunteer Week our biggest year yet! #NSVW18 had 28 universities registered, with nearly 100 events held, providing students with heaps of opportunities to experience volunteering.
---
University of Tasmania

UTAS and Tasmania University Union held some amazing events this year from discussion panels on 'Ethics & Leadership in Volunteering' to expos to afternoon teas to their coveted "We ♥ our Volunteers" refresh session which said thank you to the amazing work all their student volunteers have done over the past year! Their panel even made the local news.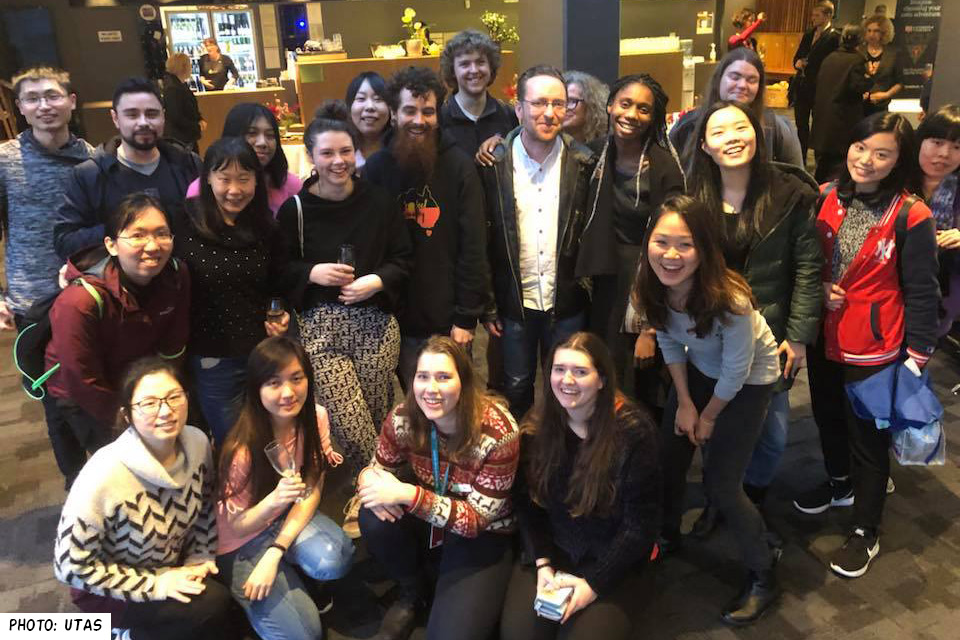 Watch their 'Ethics & Leadership in Volunteering' Panel:
---
University of the Sunshine Coast 
USC Career Development celebrated NSVW with a volunteer expo that showed off the endless possibilities of volunteering! We are sure everyone involved learnt heaps and enjoyed that FREE BBQ lunch too!
As part of NSVW, the SouthBank campus of USC ran a student-led discussion to chat about getting involved and how you can make the most of your volunteering experience.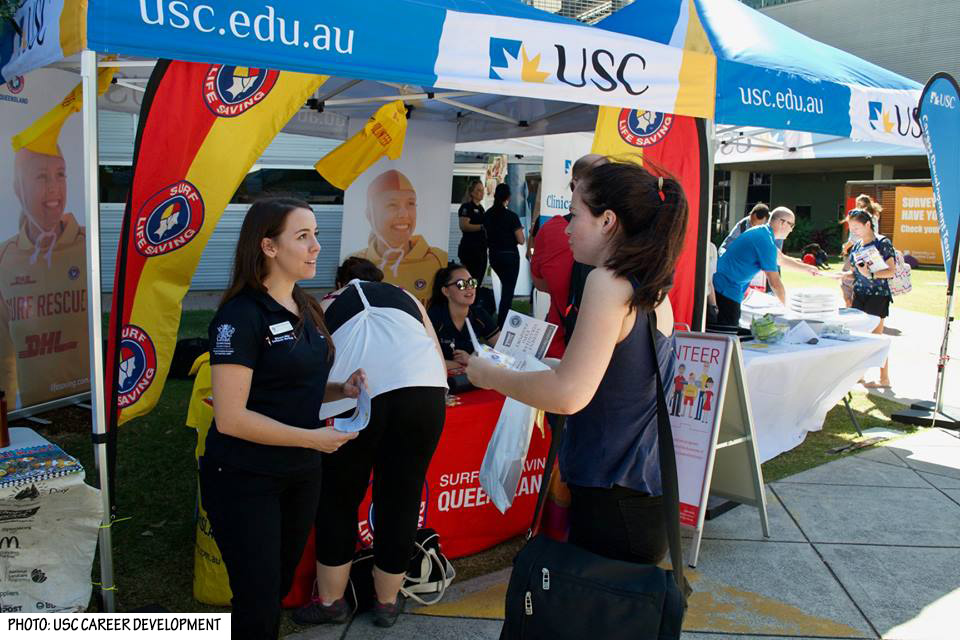 ---
---
University of Western Australia 
Special congratulations must go to UWA Guild Volunteering who started the week with an Inter Uni Tree Planting event at Lake Claremont where over 100 students planted 2,000 trees! Volunteering WA CEO Tina Williams then joined 40 students from the Micro Volunteering UWA crew to help put City to Surf lanyards together, create mini volunteer messages and build eco flower pots. They baked and sold dog treats to fundraise for the Shenton Park Dog Refuge, which they then visited to assist with general maintenance of the grounds (and were rewarded with plenty of play time with the pooches!). They also visited the Ronald McDonald House to bake sweet treats for children and families staying there for treatment at Perth Children's Hospital. As well as all these volunteer ventures, they hosted a networking session for students managing volunteers. They celebrated the UWA student volunteer community and their amazing efforts at their Student Guild Volunteer Awards Night! They also put out a special message for their wonderful UniMentors.

Did you know they have 3,000 student volunteers who contributed nearly 60,000 hours in the past year. Wow!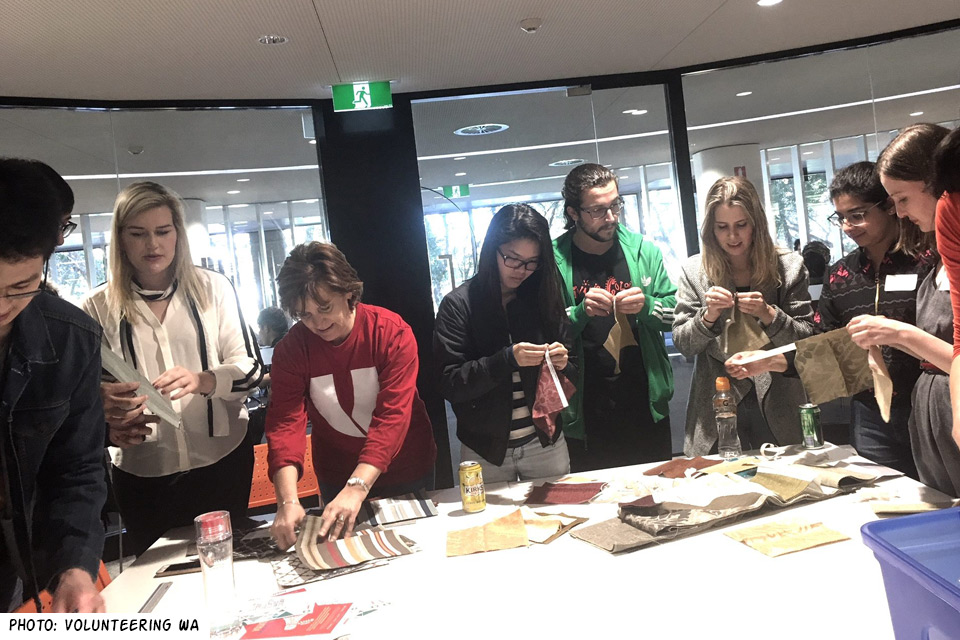 Quotes from some amazing UWA student volunteers:
Watch a video on the inter-university tree planting for Friends of Lake Claremont:
---
Edith Cowan University 
At the inter-university tree planting day, ECU volunteers met with other students from UWA, Curtin, Murdoch and Notre Dame and the organisers of Friends of Lake Claremont to learn about the importance of conservation, the variety of native animals calling the area home and how student volunteer efforts would contribute to one of Perth's largest restoration projects.
The Careers and Leadership Services team assembled some of the greatest influencers in the not-for-profit, community and government sectors to share their knowledge and experience with ECU students in an hour-long panel session entitled 'Volunteering: Your Gateway to Career Success'. The guest panellists discussed the numerous ways volunteering can help launch you into your dream career. They explored the benefits of volunteering, such as networking opportunities, skill development and personal brand growth and exposure and also shared their personal experiences and insight into volunteering within their organisations. The panel members were impressed with the dedication and pro-activeness of ECU students in attendance.
Shout out to the ECU Vol Squad! ECU partnered with Ronald McDonald Charities WA to organise a rewarding and memorable opportunity for a group of ECU students. RMHC runs the 'Home for Dinner' program, giving volunteers the opportunity to cook for residents when they return home from a long day at the hospital. ECU students were eager to lend a hand and were humbled hearing of the experiences of the families they met on the night, and enjoyed being able to make a small contribution at such a difficult time. Participants expressed their gratitude for being able to take part and described the event as exciting, valuable and fulfilling, saying that it had increased their aspirations to volunteer again in the future.
The ECU Vol Squad also volunteered at the annual Redkite Corporate Quiz, a fundraising event raising money for children and families affected by cancer. A team of student volunteers, both domestic and international students from a range of cohorts, attended Perth Convention and Exhibition Centre for the event setup and preparation. Students were kept very busy setting up the function room, preparing and presenting auction items, iPad and software setup, transporting prizes, preparing brochures and pamphlets and preparing items to assist the evening volunteers hit the ground running. The students went home with sore feet and a great sense of achievement through contributing to an event that raised close to a quarter of a million dollars! This figure allows Redkite to support 96 children and young people facing cancer in WA this year.
Not-for-profit organisation, Awesome Arts, in collaboration with the ECU Careers and Leadership team hosted a pop up volunteering stall at the Mount Lawley campus for students to drop in and volunteer their time preparing promotional materials for the upcoming festival in October. The Awesome Arts Festival is an annual event aimed at engaging school-aged children in creativity and innovation whilst educating them of the importance of art. Students were encouraged to spend a few minutes of their time taking part in a badge making activity which were to be given to visitors to the festival. The opportunity also allowed for students to network and discover the range of skilled volunteer opportunities available, as well as raising the on-campus profile of AWESOME Arts Festival. #BeTheChange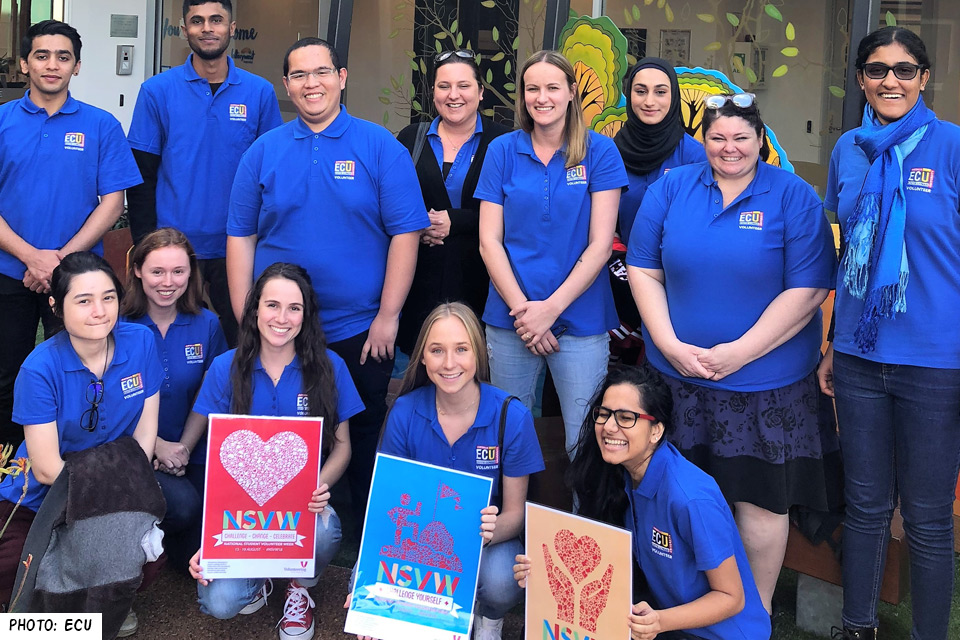 ---
Federation University 
Over the week Fed Uni celebrated NSVW with volunteering expos on two campuses... and some delicious free donuts! This was a great event to see what opportunities volunteering can bring to you and the feedback from the volunteering organisations was really positive and they felt the students who signed up with them were really engaged and passionate.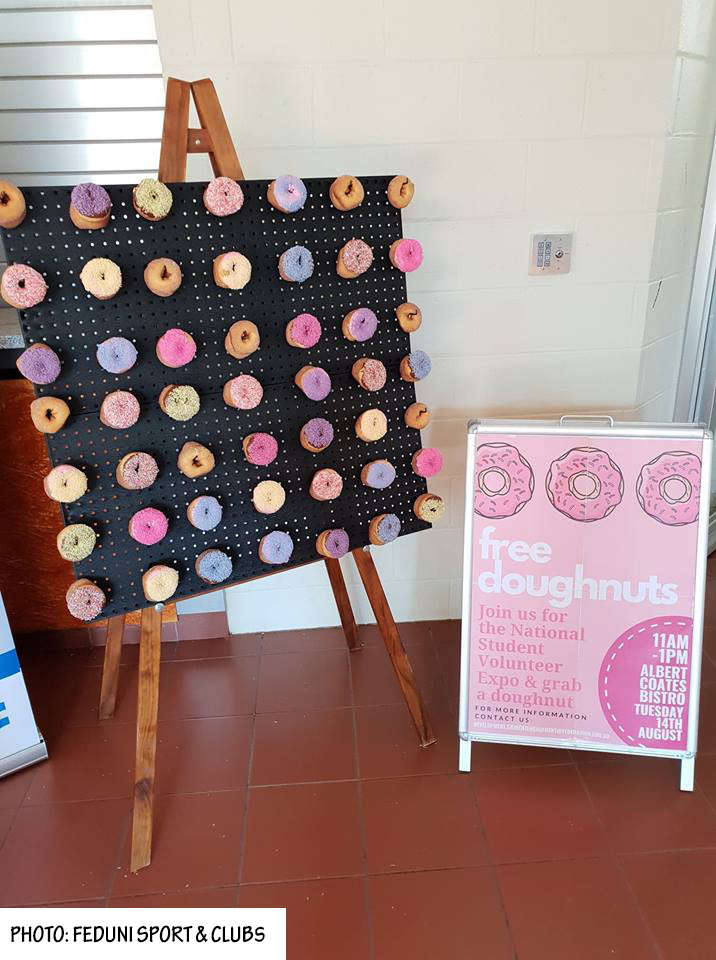 ---
Macquarie University 
The Centre for Environmental Law at Macquarie University made some fantastic volunteer profiles to celebrate each day of #NSVW18! Each of these profiles highlights the importance of volunteering for each person and how they make a difference in the community. Meet Aprill, Ashley, Quintin, Shannon, Alex, Ashley and Abi.
---
Victoria University
Despite a chilly week in Melbourne, Victoria University undertook some great events during NSVW! Events ran across their campuses to raise the importance of volunteering and celebrate those students who take part in volunteering programs around the university. Victoria University also launched their V4U Day, which is their biggest volunteering event to date and will give students the opportunity to help out Melbourne's Western community, connect with others and gain real work experience.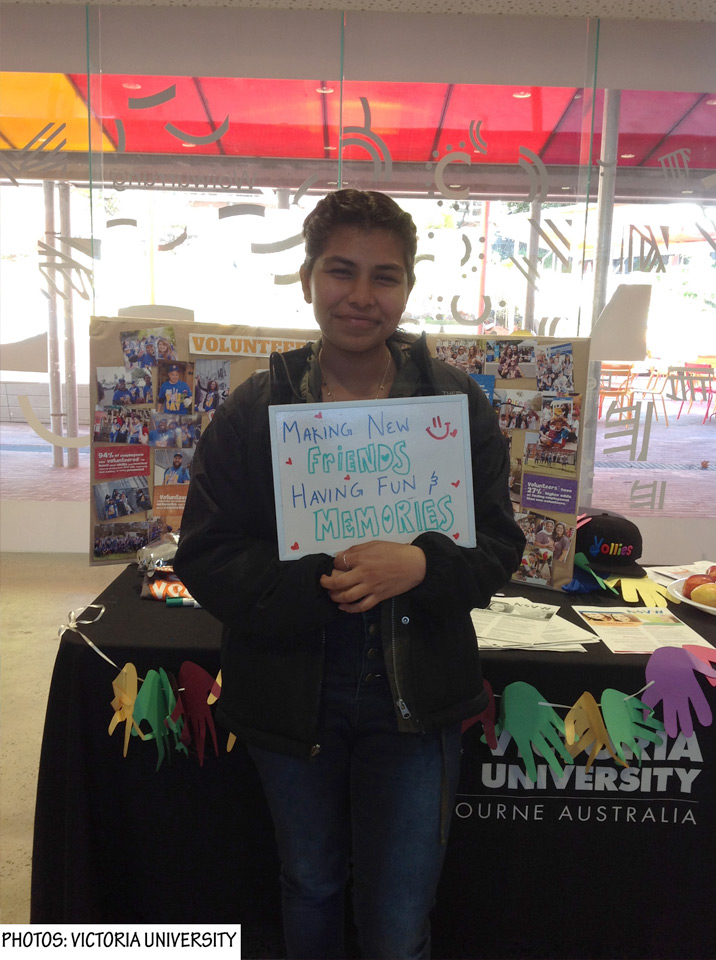 ---
RMIT
RMIT Training held a NSVW expo. 250 students attended the event which was a great way for them to meet new people, especially those students who are new to Australia, to learn about developing job skills and getting the most out of their university experience. This was a cosy event with a focus on quality conversation. From the expo they had 122 promising volunteers sign up for roles with the City of Melbourne, AIESEC, Open Table, ASEAN Games, Coffee Cart Changing Lives and the RMIT University Social Sport team. This is an amazing achievement for RMIT and we know those 122 new volunteers will make a difference in the community of Melbourne.
RMIT Careers and Employability organised some great volunteer-run information sessions for students that were held on campus during NSVW. A representative from YMCA came along to outline the awesome programs they run and how students can get involved. A volunteering panel event also took place with The Bridge of Hope, Lighthouse Foundation, Community Information and Support Victoria, Odyssey House and Scouts Victoria all coming along to share their organisations experiences and provide insights into how volunteering can help your career.
---
University of Southern Queensland
University of Southern Queensland provided online volunteering video resources for students to access during NSVW. They had a significant number of students login to watch these informative videos. They plan to continue to promote these resources throughout the year.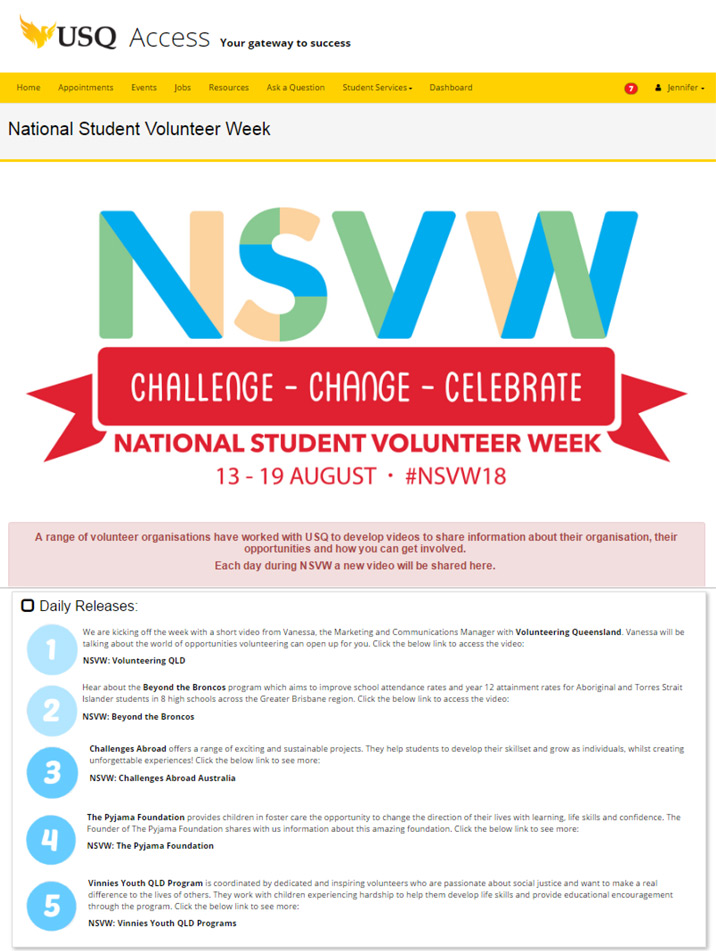 ---
Curtin University 
Alongside other universities from WA, Curtin Volunteers! took part in the annual Inter-University Tree Planting. Curtin Volunteers! also supported Wheatbelt organisation Beverley Agricultural Society Inc. We want to say thank you and congratulations to all Curtin Volunteers! for the time they take out of their busy schedule to help those around them.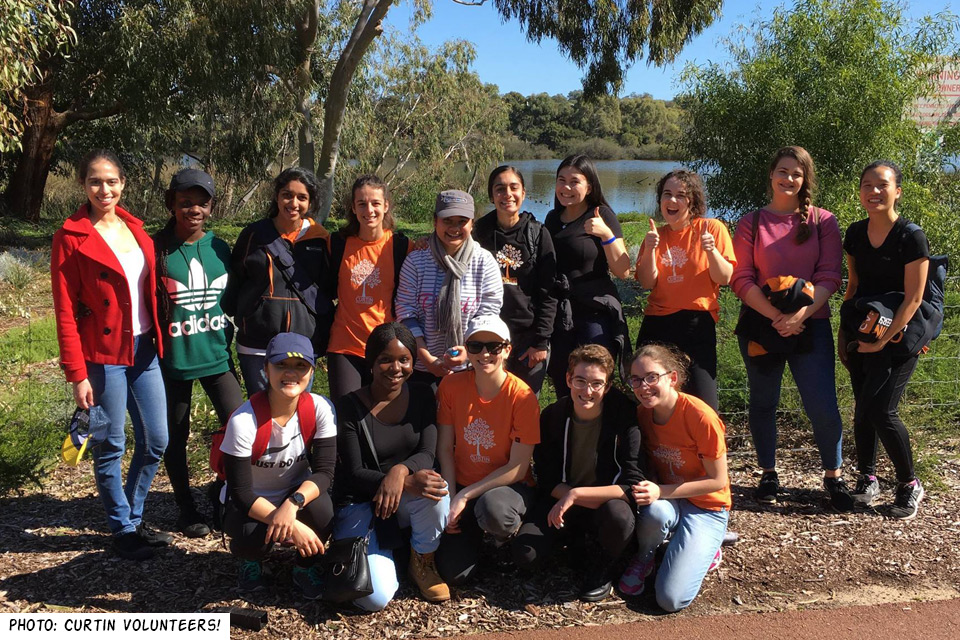 ---
Griffith University
Great work by Griffith University Gold Coast Student Guild who contributed to NSVW by handing out booklets that contained information regarding volunteering. This very useful resource covered the types of roles which may be suited to students and what they are studying at university and provided the opportunity to discuss volunteering with them one-on-one.
Mentoring at Griffith run a campaign of recognition and thanks for their student mentors. There are close to 1,000 volunteer student mentors and student leaders at Griffith each year, who give their time to assist other students to transition successfully to university life and to succeed at their studies. They also took expressions of interest from students who want to become a mentor in 2019.
Watch their video on the benefits of student mentoring:
---
Flinders University 
To acknowledge all student volunteers, Flinders University held a lovely morning tea honouring the work the students have done that has made a difference within their community and at the university.
Their NSVW People's Choice Award winner was John McWhirter-Whitlock. Out of 70 registrations for the award, and 5 finalists to vote for, John was voted the winner by Flinders students for his inspiring volunteering story:
"I have been involved as a prison chaplain since June 2002. My role is about offering a listening ear and being non-judgmental to those men who are serving time in prison. I go into the prison system to offer hope. One observation is that they value someone who comes in as a volunteer to listen to their stories. It blows their minds that I would come in and be willing to chat with them. To them it is like you are taking time out of your day to come and chat with us. That you see as a person, not a surname or a number."
Another volunteer recognised was Jewels from Sienna's Little Free Libraries who describes volunteering as very rewarding.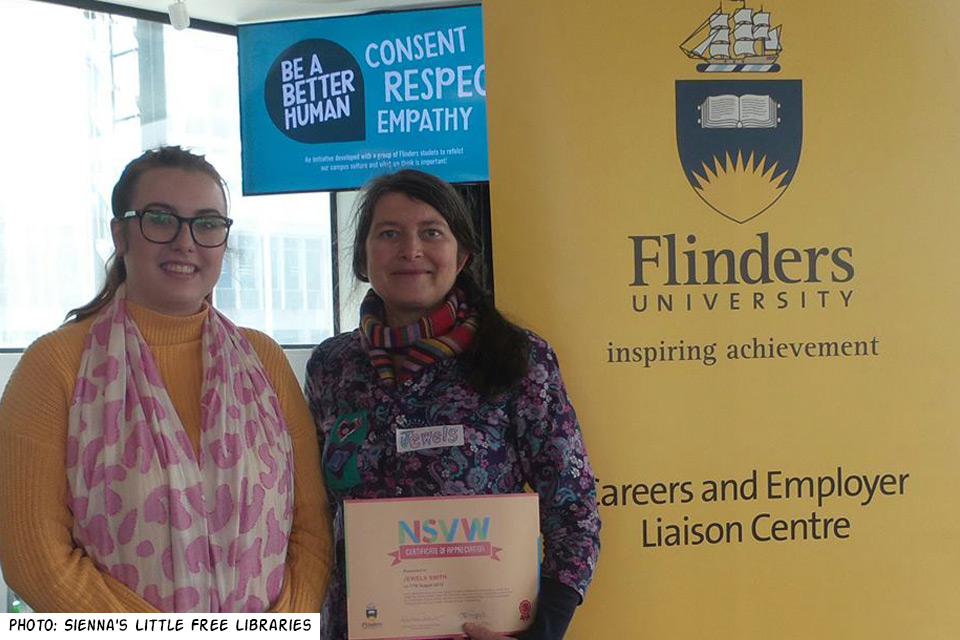 ---
Monash University 
Monash Student Association certainly put on a plethora of great events this NSVW from breakfasts to movies to information sessions about volunteering to art exhibitions. Thank you to all those who made the week such a success by showing how volunteering really can change lives.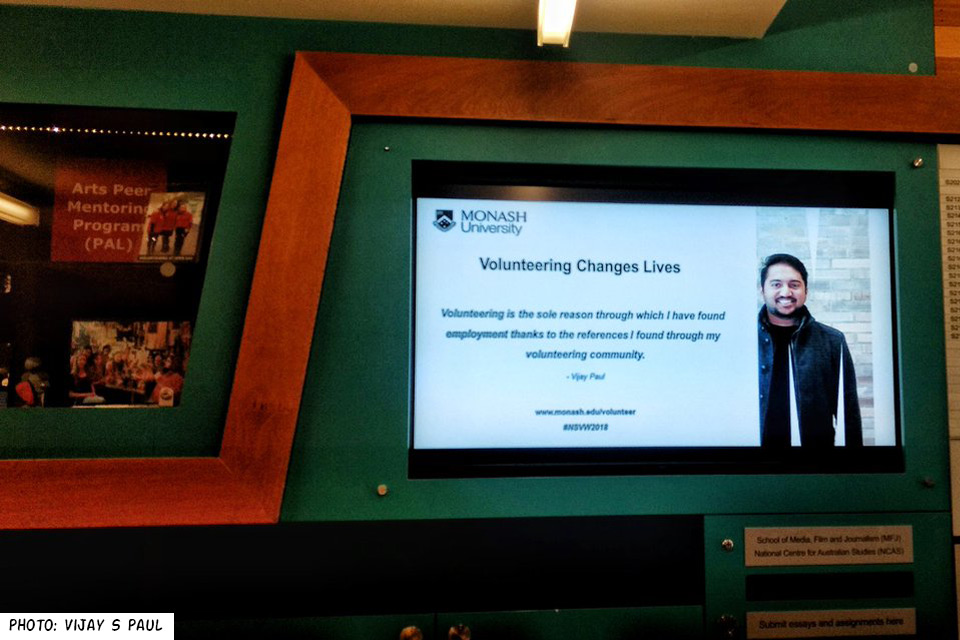 ---
Central Queensland University

The Crime Prevention Unit - Mackay Police, Queensland Police Service celebrated the efforts of CQU Conservatorium students who volunteer their time to keep our community safer. Students are involved in presenting theatre shows 'Safety Circus' and 'Choices' which deliver important messages to younger audiences about personal safety, dealing with bullying, helping others and advice for a safe time at Schoolies. Students enjoyed a light lunch to recognise their contribution with an award ceremony.
Watch a video about the great work of CQU Conservatorium students:
---
University of Adelaide
"I find it really rewarding and I learn so much, it's something I'm really passionate about." says Psychology Honours student Elisabeth Cobos, who is just one of 1,100 students that volunteer within the University of Adelaide community. You can read more about Elisabeth's volunteering story here!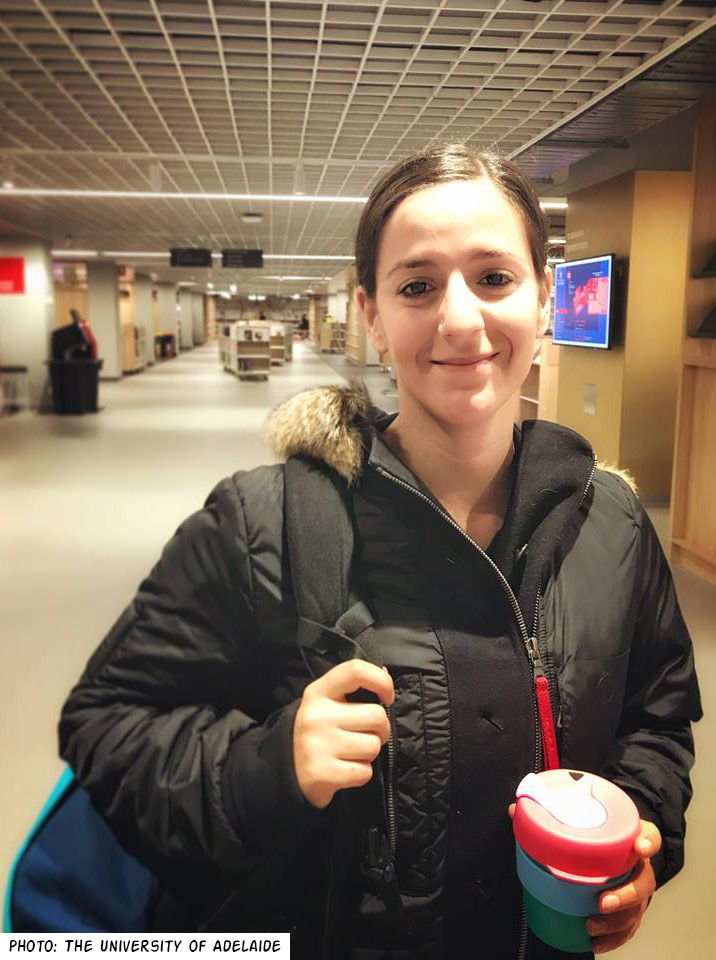 ---
University of Technology Sydney
UTS: SOUL Award is a student social leadership and volunteering program who this year has logged an amazing 12,766 hours of volunteering within their community. Happy National Student Volunteer Week to all the incredible SOULies and keep up the good work!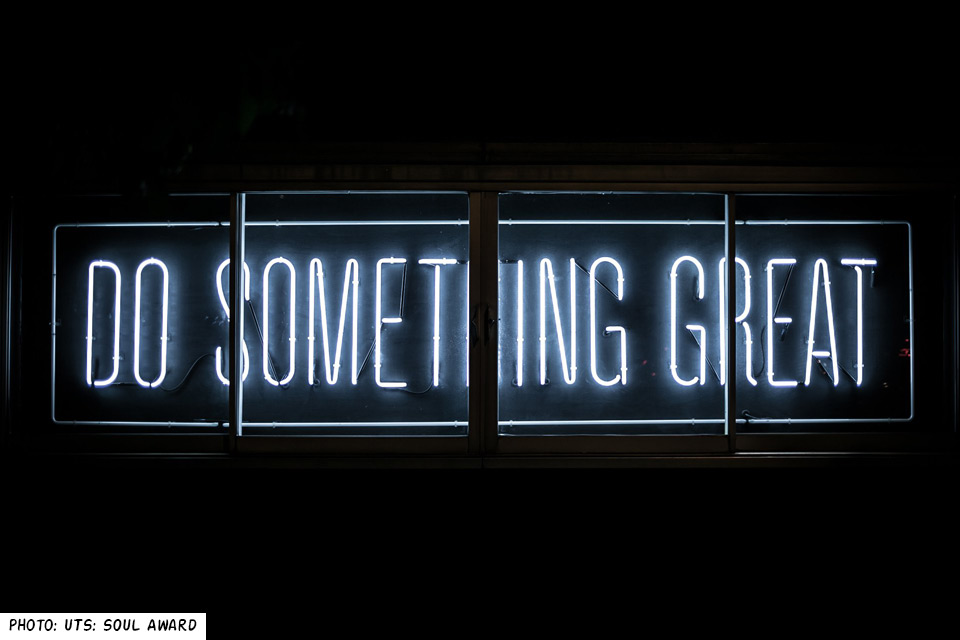 ---
Western Sydney University
Western Sydney University partnered with Conservation Volunteers Australia, where students participated in conservation work at their Kingswood campus. An inspiring student team also volunteered at Foodbank, learning about the increasing level of food insecurity within Australia. Taking shifts, students helped Foodbank collect unwanted and surplus food from supermarkets, farmers and food producers and distribute it to charities and school food programs. Hard work but a rewarding experience! #BeTheChange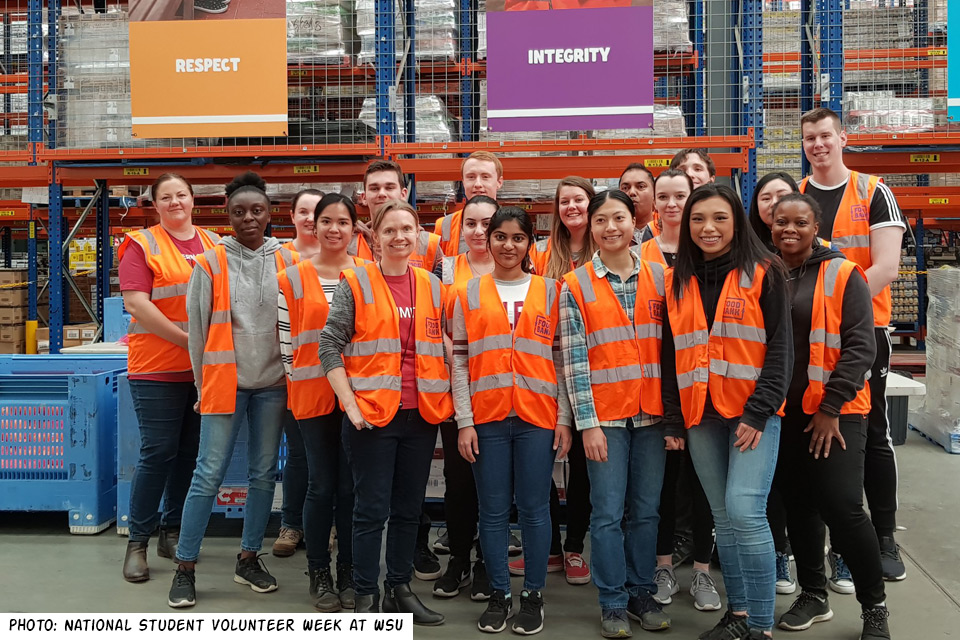 ---
Charles Darwin University
How good does this #grazingtable look! CDU put together a delicious morning tea in recognition of their student ambassadors! #CelebrateEachOther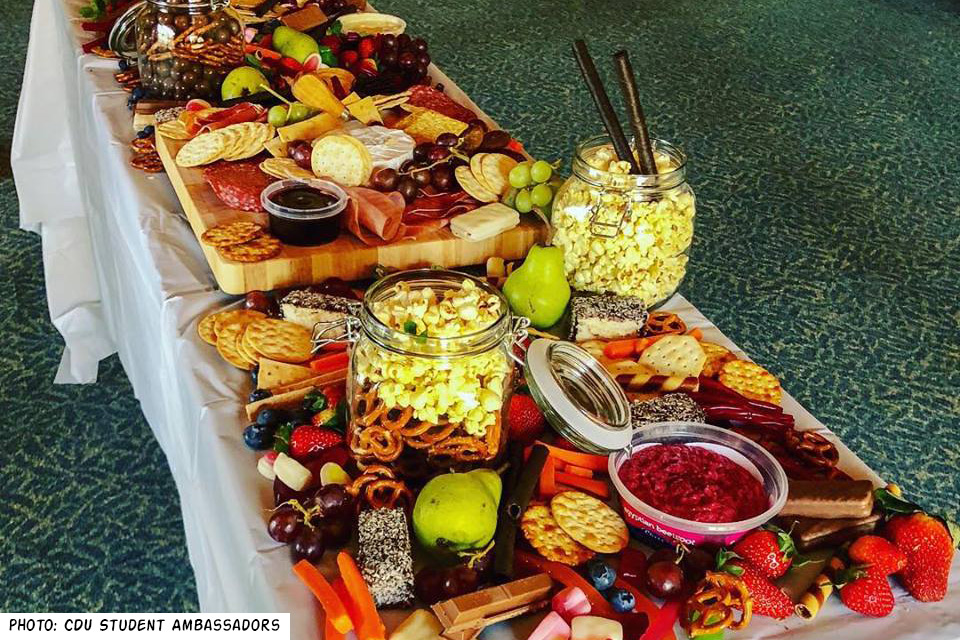 ---
Murdoch University

Murdoch Guild Volunteering provided students with the opportunity to help local organisations and communities. Not only did students collaborate with the WA Inter-University tree planting at Friends of Lake Claremont, students were also able to assist organisations including The Redkite Corporate Quiz and Kanyana Wildlife Rehabilitation Centre. Thanks for accomplishing something meaningful. #BeTheChange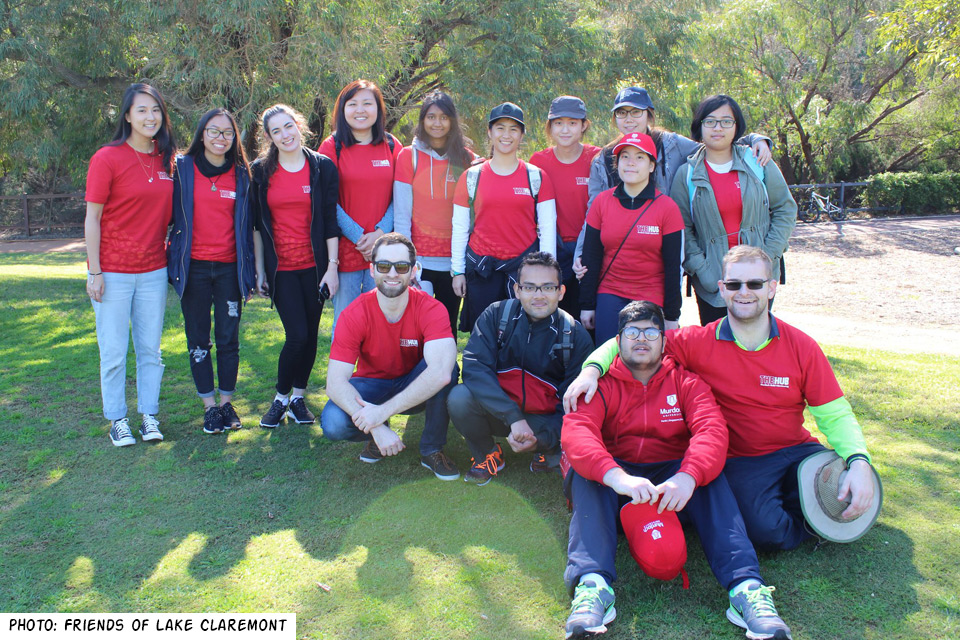 ---
Australian National University

ANU and ANU+ students helped out Conservation Volunteers Australia by volunteering on a conservation program in the Lower Cotter Catchment in the ACT. They rejuvenated plants and gave them some TLC. Students participated in a Batyr workshop which looked at mental health with a focus on managing volunteer work with other commitments. They also held a sleep out on campus and a panel discussion partnering with ANU Vinnies to raise awareness of homelessness.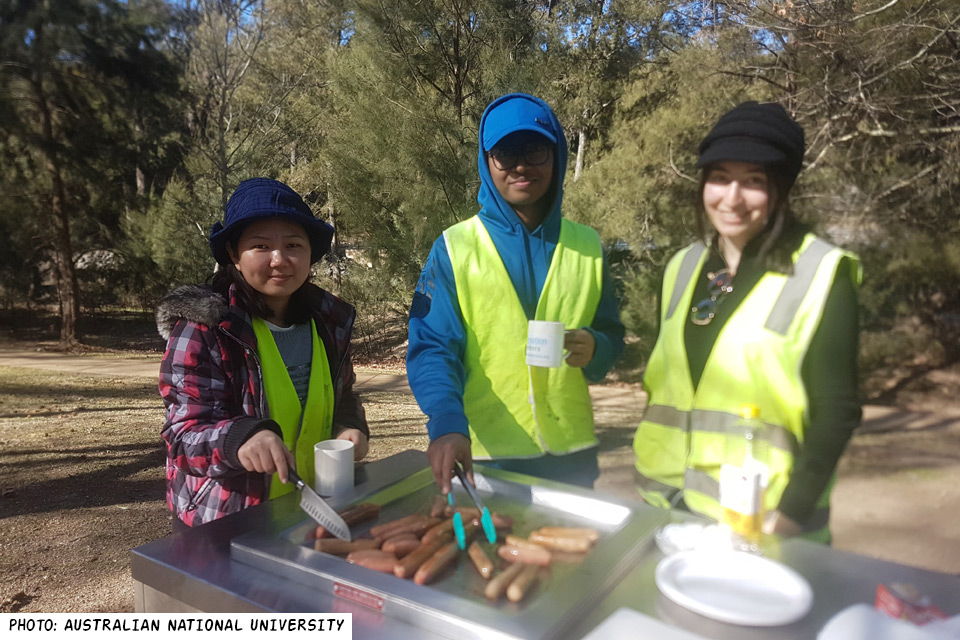 ---
University of Notre Dame Australia
The Notre Dame Volunteer Network participated in the awesome Inter-University tree planting event with other WA universities, where student volunteers braved a minimum temp of 3 degrees on a Saturday morning to plant seedlings.
They also held an appreciation lunch to acknowledge the work student volunteers contribute to their not-for-profit community. NDVN support the local homeless community by partnering with St Pat's Community Centre and they were so honoured to have their Starlight Hotel Choir sing to honoured attendees. At the lunch they had representatives from Teach Learn Grow speak about the wonderful work they do in rural and remote regions of WA. TLG's mission is to improve the educational outcomes and aspirations of rural and Indigenous students in socio-disadvantaged areas.
NDVN "Bumps In" with their free coffee event held each Tuesday during semester by their Campus Ministry team. Each week NDVN invites a local not-for-profit to have a stall and chat to students who may want to find out about volunteering. During NSVW they hosted On My Feet, an organisation that assists those at risk of or experiencing homelessness. They help transition participants to self-sufficiency and promote self-belief and self-worth.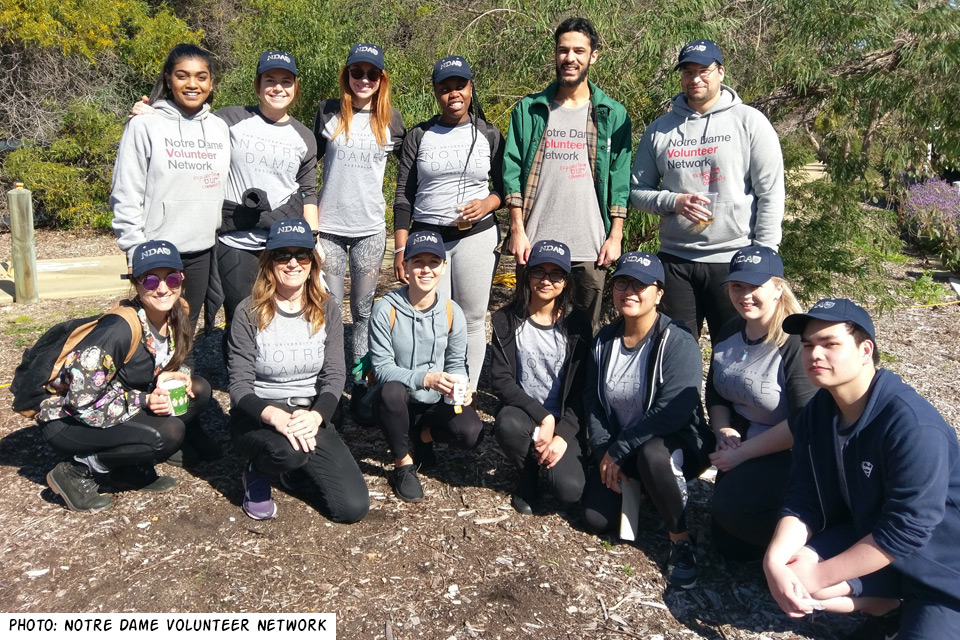 ---
University of New South Wales

Arc Volunteering, Arc - UNSW Student Life held the wonderful Good Deed Day for NSVW. They partnered with lots of amazing local charities and causes to give students the chance help out and make a great change within the community. In particular they worked on bushcare with Centennial Parklands and on the Dream Project which involved a refugee school group on campus. Together creating memories which will last a life time.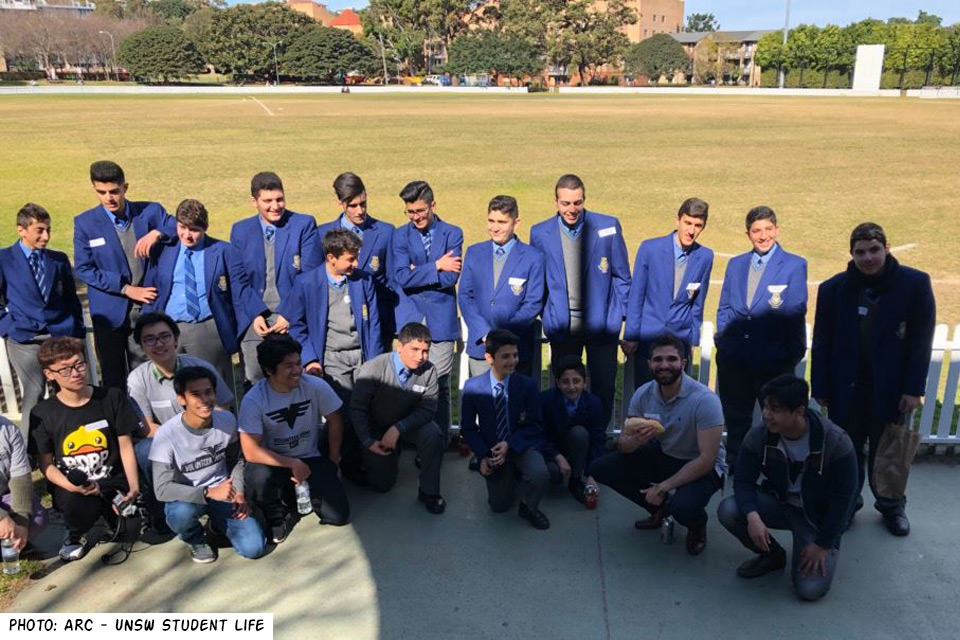 ---
University of Melbourne
The University of Melbourne ran two events during NSVW which engaged 130 students.
Their informative volunteering information session included Volunteering Australia advice about finding volunteering opportunities and provided students with an introduction to the Leaders in Communities Award, which is an award students can apply to in order to get their volunteering and extra-curricular efforts formally recognised by the university on their transcript and Australian Higher Education Graduation Statement.
They also held a great workshop 'Tell the World You've Volunteered' that helped students to reflect on, and learn how to articulate the skills they gained from their volunteering experiences. The event was sponsored by the University of Melbourne Student Union with cupcakes.
#ChallengeYourself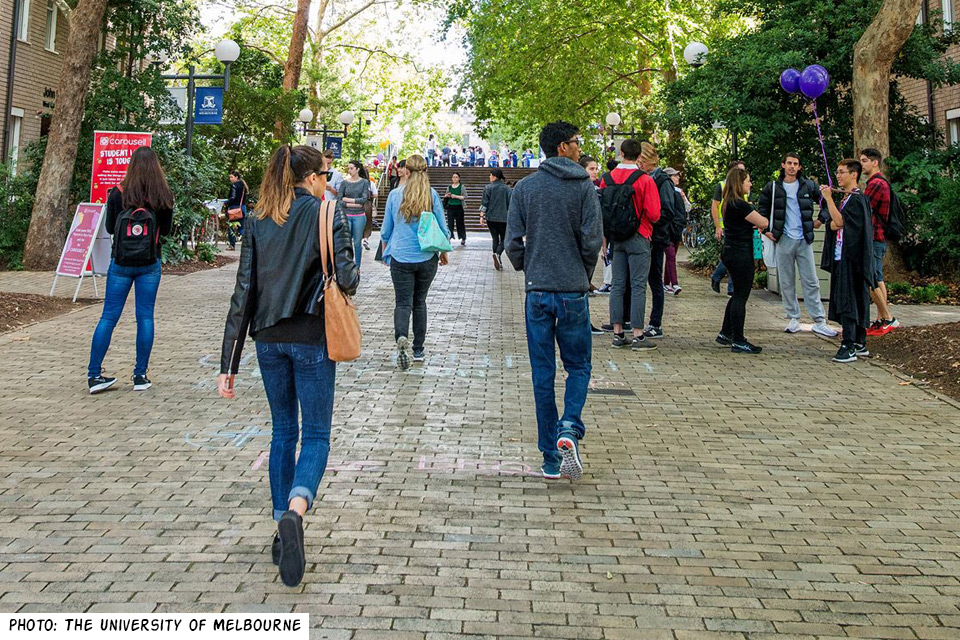 ---
University of Wollongong
University of Wollongong used the special occasion to recognise the stars of their community. In particular they highlighted UOW students volunteering at the 2018 Southern Star Schools Spectacular.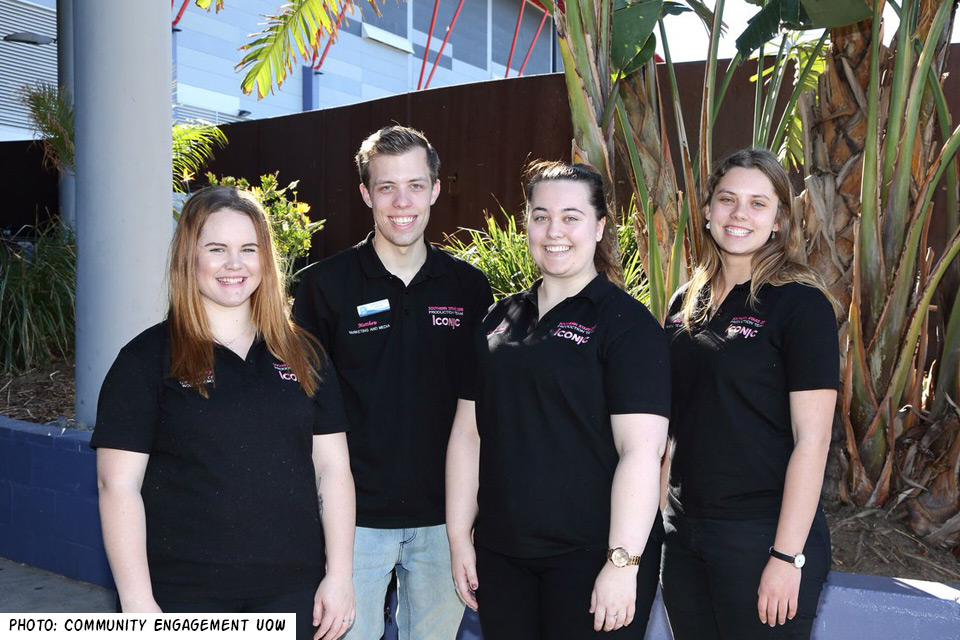 ---
James Cook University 
James Cook University and Conservation Volunteers Australia - Townsville, partnered to engage students in the lead up to NSVW. JCU students visited the wetlands at Townsville Town Common Conservation Park to plant over 1,350 plants! This is an amazing achievement by all students who engaged in this environmental event! Over 30 students, 12 volunteers and 3 staff helped to plant species which are valuable to conserve the wetland. Indigenous elder Russell Butler also gave a talk about the Indigenous uses of native plants in bush tucker and medicinal use.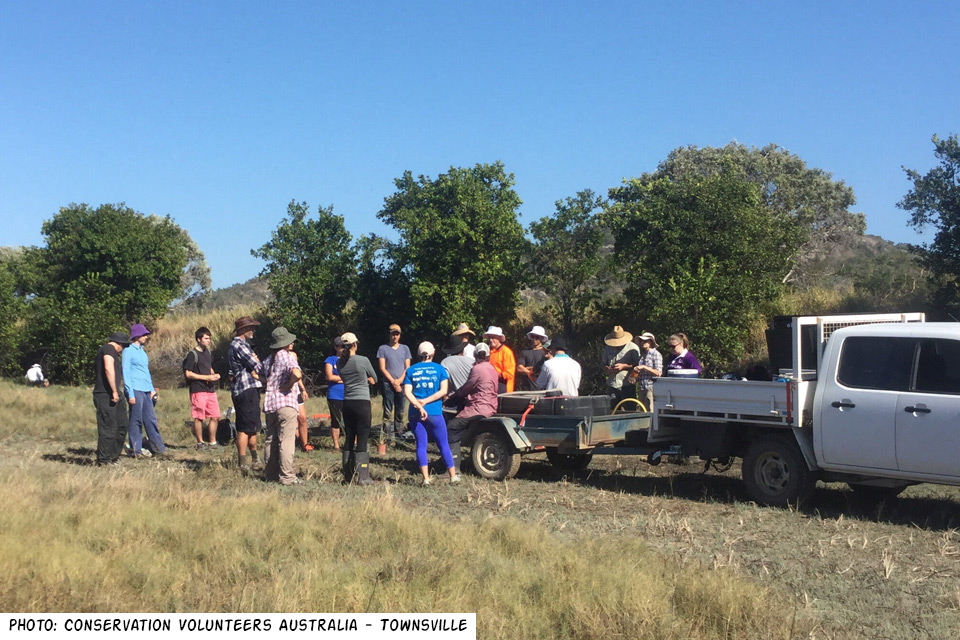 ---
Swinburne University
Swinburne University ran a Volunteer Ambassador Day to promote an informal come meet other volunteers and join the team. #ChallengeYourself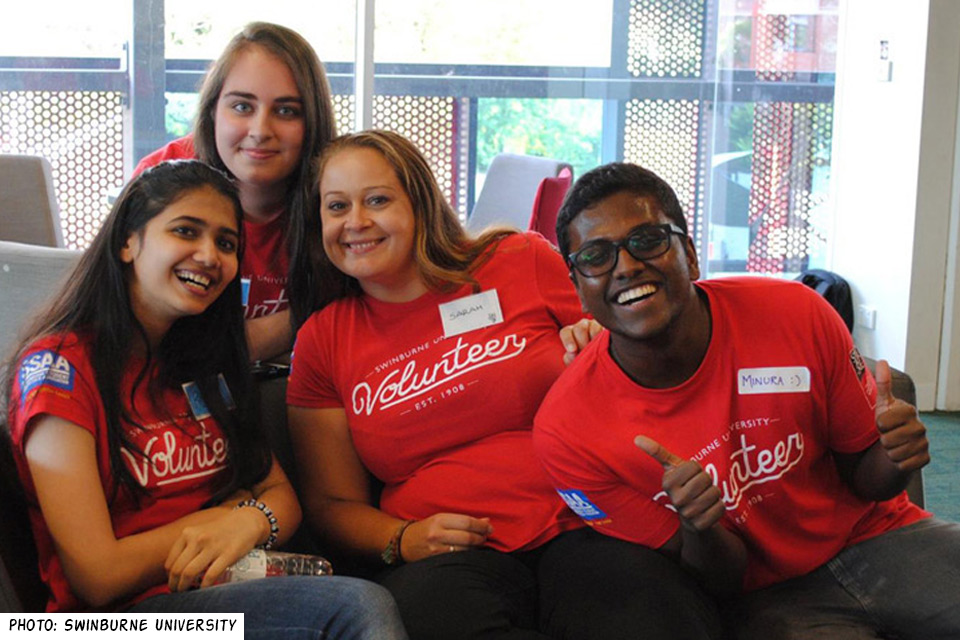 ---
University of South Australia
UniSA Volunteering and Community Engagement got involved in the social media campaign with a shoutout to all their amazing student volunteers.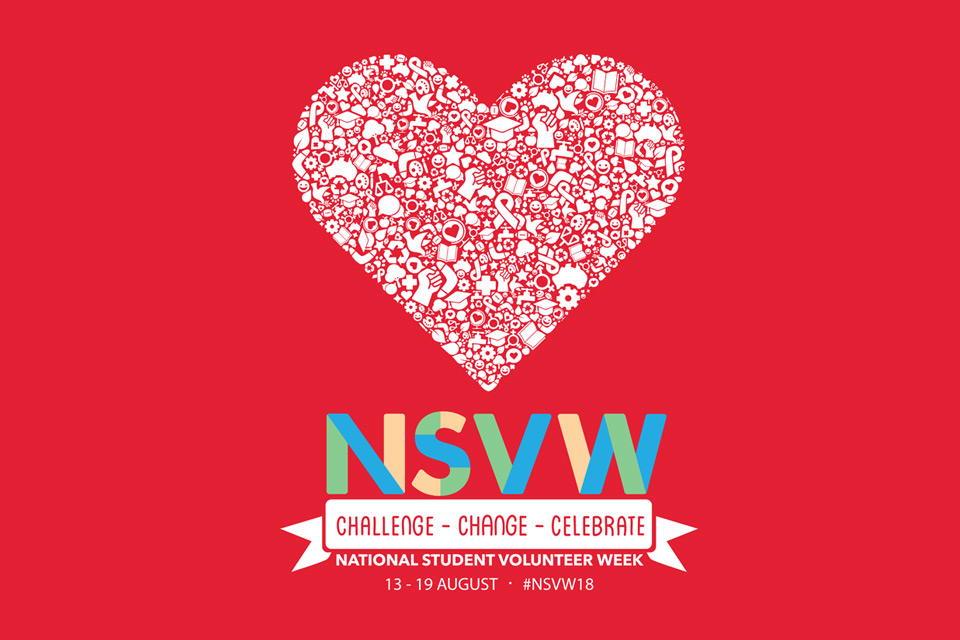 ---
Pirlirrpa Education Program
As part of Pirlirrpa Education Program, St James College held a volunteer expo showcasing volunteering opportunities with different community organisations and guess what…it was completely run by students!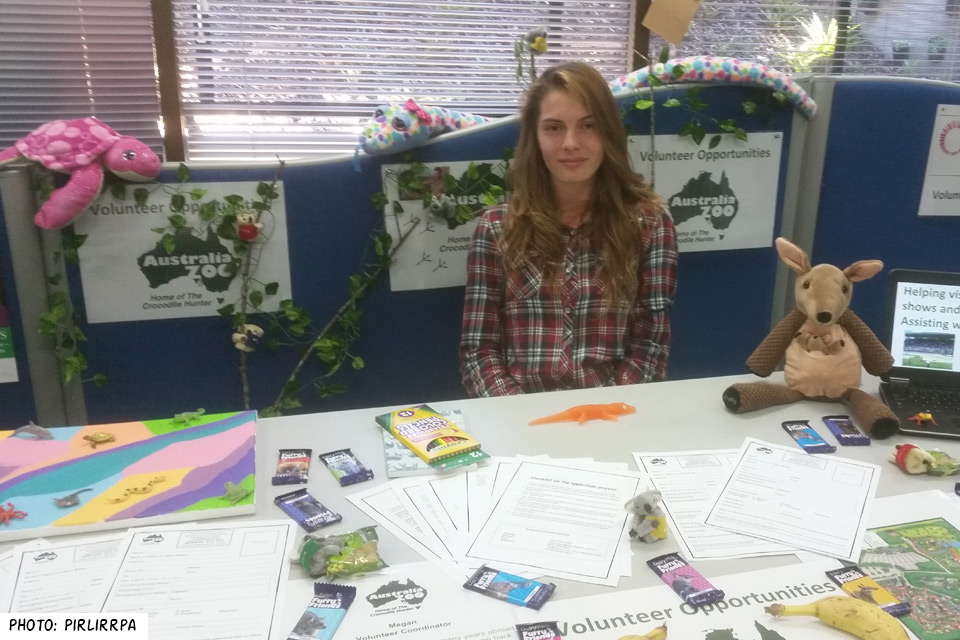 ---
Seton College 
Students from Seton College, who are completing their Certificate ll in Active Volunteering, held a volunteer expo during NSVW. Students created excellent trade displays on their chosen volunteer organisations.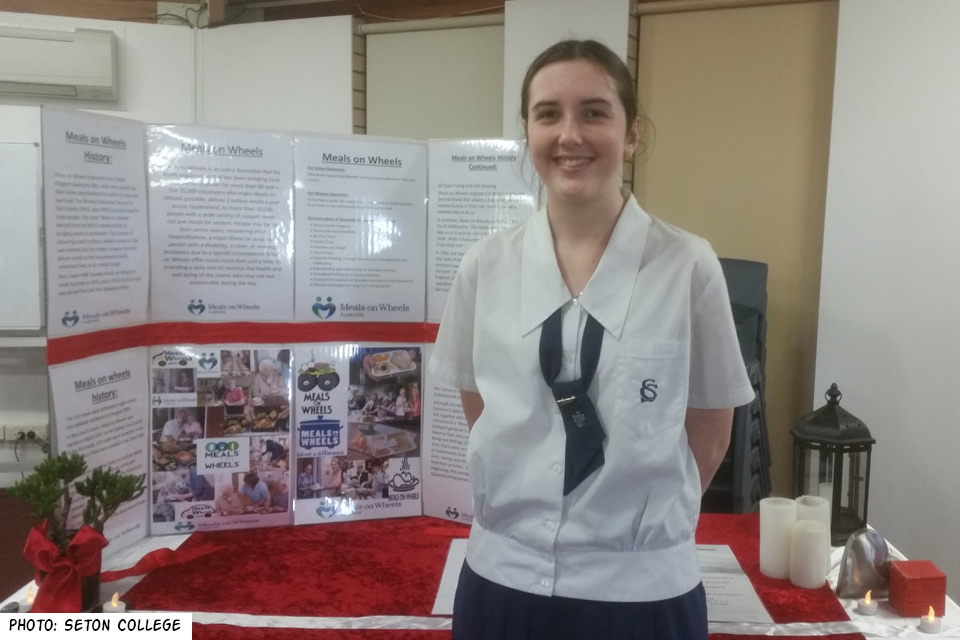 ---
Annandale Christian College
Annandale Christian College held a thank you lunch (which included pizza) as a celebration of the work of student volunteers in the school community.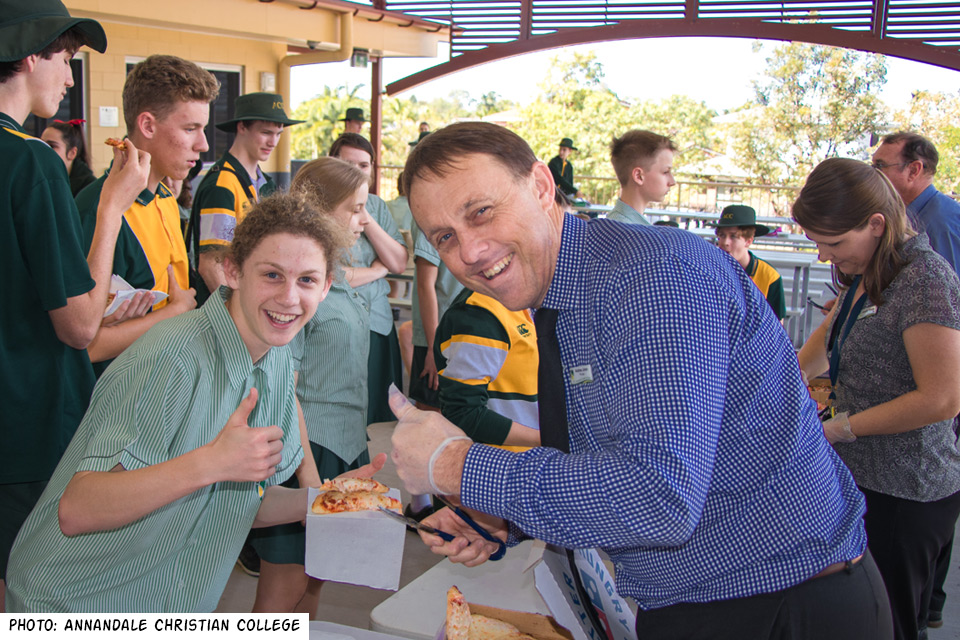 ---
Thanks, from us, to you!!

A massive thank you to everyone who contributed to #NSVW18 and made it such an enjoyable, meaningful week!
We would love to hear any feedback you have on this year's National Student Volunteer Week. Please contact us with your ideas to make the week bigger and better in the future.