See what happened during 2015's National Student Volunteer Week!
Browse through the inpsiring awesomeness of National Student Volunteer Week #NSVW15!! Thanks to the 20+ education providers, the 1000's of students and all the community groups involved. We had a blast!!
---
Federation University
Federation University Student Leadership and Volunteer Program had a bumper week of #NSVW15 events and activities!!
Students got to experience the magic of the 80's at their Sing for Nepal karaoke night. This fundraising event was started by teaching student Jody Dontje who fell in love with the beauty of Nepal during a volunteering trip last year and felt compelled to do something when news of the devastating earthquake broke. "I immediately thought about what I could start doing to help the people impacted and, having still been in contact with the Shauna Rose Kaufman Foundation, I was able to touch base and find out what the affected communities needed most." The goal is set to raise up to $10,000 to help the country's recovery.
There was much excitement happening both on campus and online with their volunteer expos. Plus, there was their 'Be a Superhero' community projects including a sewing session to make pouch liners for orphaned animals, with 40 completed and a whole heap well on the way, and community gardening too. At their community sleepout students and staff got a small taste of what sleeping on the streets is like - an impactful experience full of great discussions and lots to think about.
Then, there was Crepes for Change on campus, brunch, bbqs, competitions, blogs, their popular Pop Up Op Shop returned and there was even a cupcake decorating station where the creativity was palpable! Brilliant stuff!!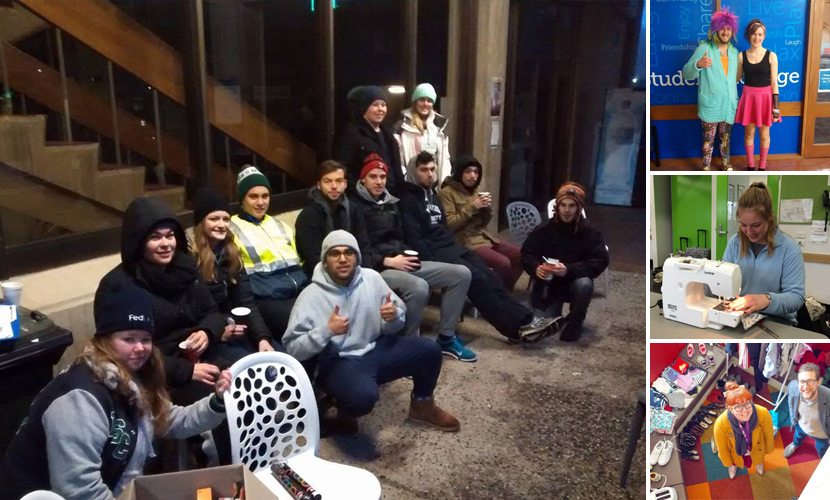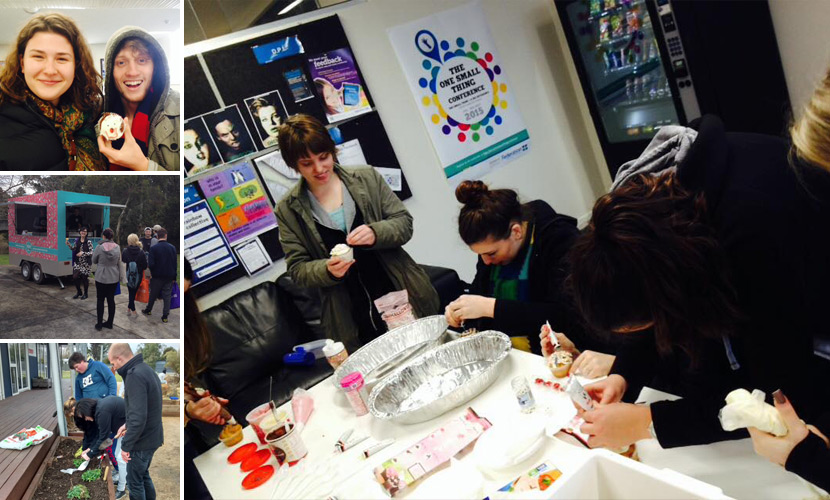 ---
University of Western Australia
UWA Guild Volunteering had an exciting program of events for this year's #NSVW15!
To kick things off UWA students gathered to prepare to launch a new volunteer program with Lynwood SHS, a great start! They also successfully launched their Micro Volunteering Mondays where students can make a big difference in a little time. Micro activities so far include packing safe sex packs for the WA AIDS Council, making soil sample kits for citizen scientists, and craft activities for Baptistcare and Cancer Council WA.
The UWA Guild Volunteering team are all for challenging themselves, being the change and celebrating each other through volunteering. To do just that they had a volunteering zone at their club carnival, volunteer training for Ignite Mentors, mindfulness classes, a panel discussing the social impact of engineers, they hit the streets with a bread run in support of #NSVW15 and Homelessness Prevention Week, and then there was a native seedling planting session on campus too!
Plus they were involved in the massive inter-university tree planting event helping restore Lake Claremont to its former glory!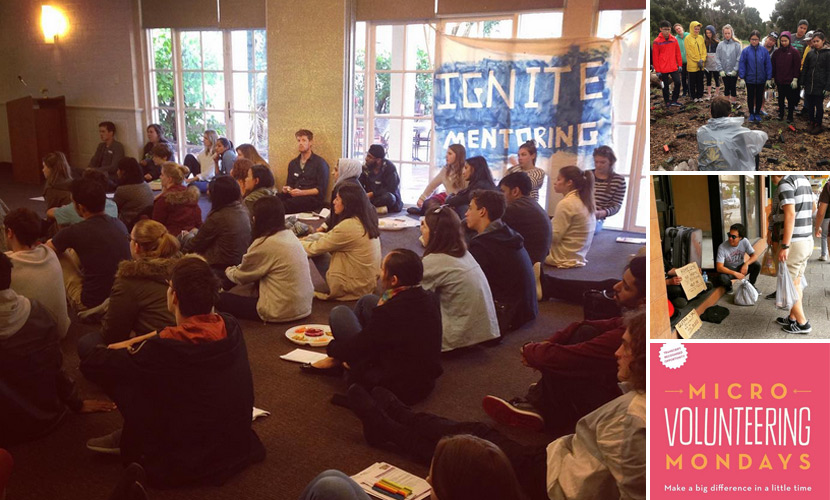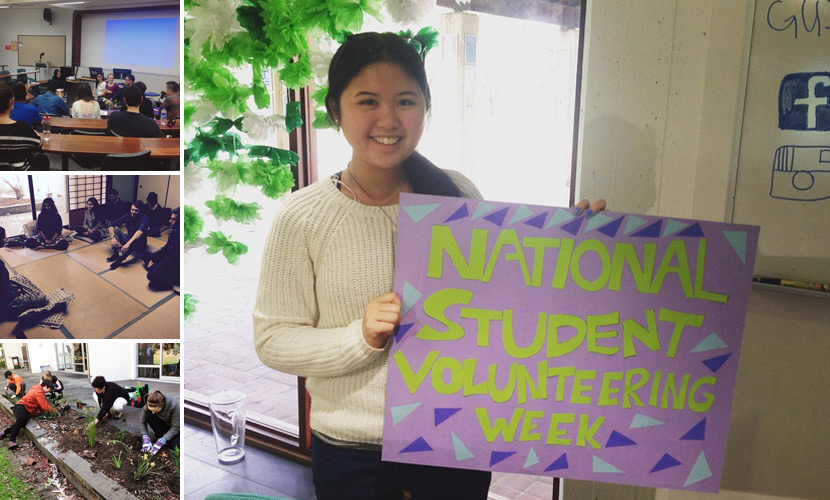 ---
Western Australia - Inter-University
The Friends of Lake Claremont inter-university tree planting volunteering event was a great success! Student volunteers from UWA Guild Volunteering, Murdoch Volunteering Hub, Curtin Volunteers! and University of Notre Dame Australia planted more than 2,500 native trees - braving wind, rain and mud. But, no amount of bad weather could wipe the smiles off their faces :D
It's just breathtaking the power of volunteering!!! Well done everyone for a productive day's work that makes a lasting impact!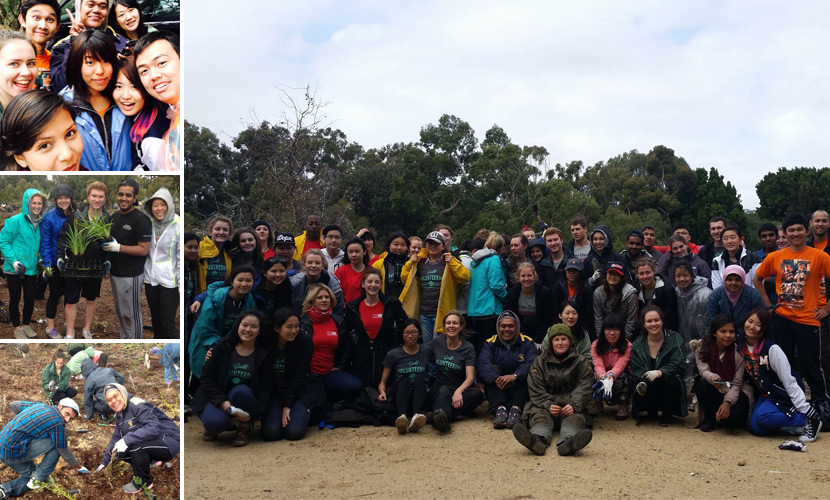 ---
University of South Australia

The University of South Australia went all out during #NSVW15 with heaps of activities across all their campuses.
There was just so much going on – mini festivals with opportunities to learn more about volunteering and student-led projects, the option to make one-on-one appointments with the university's volunteering team, BBQs, the chance to register as a blood donor and the Community Sleepout at the City East Campus! That's right, students and staff at UniSA conquered the cold on a Friday night, one of the coldest evenings during winter this year. Well done, you made a difference in the lives of people experiencing homelessness.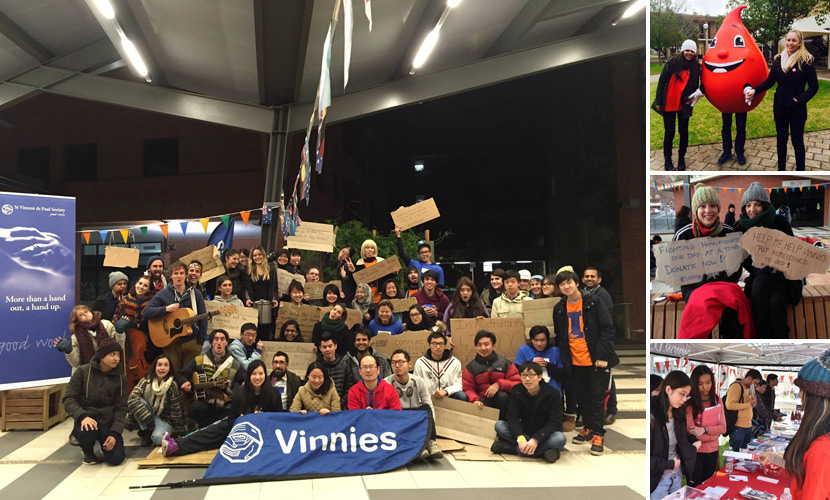 ---
Charles Darwin University 
Charles Darwin University Aspire Program launched a short video to celebrate #NSVW15!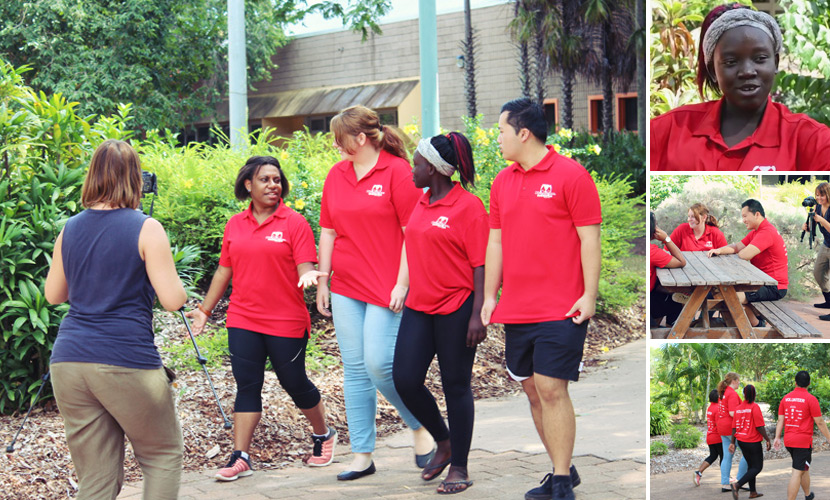 The video shows a group of CDU Aspire Program students who volunteered at the 2015 Darwin Italian Festival. The group of Year 12 Darwin based students volunteered across a range of roles at the event, and reflect on their experience and what it means to them to help others. 
---
University of Queensland
Students packed the hall to visit over 35 stalls from different community organisations at the University of Queensland's seventh annual Volunteer Expo. Our #NSVW15 team was there to witness the good vibes and be inspired by students' motivation for volunteering and making a difference. View all the photos.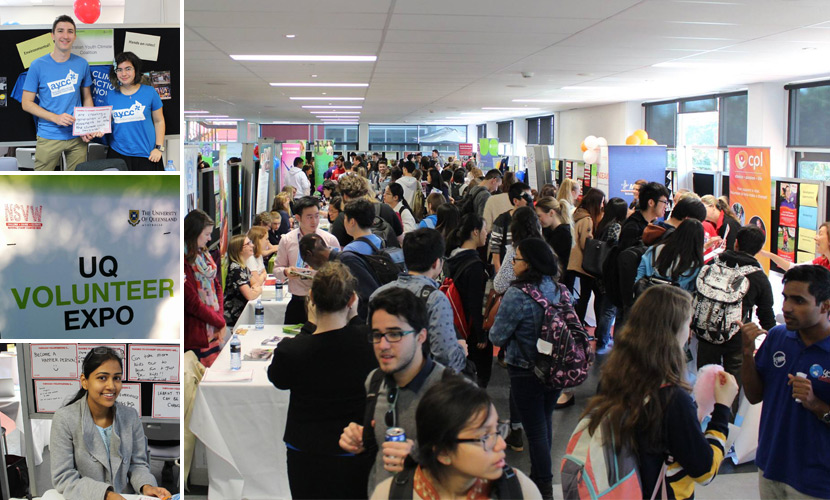 ---
University of Technology, Sydney

UTS held their annual creative Volunteer Speed Networking event during #NSVW15!
UTS students had the chance to find their perfect volunteer opportunity match. This event enabled students to engage at a deeper level with 12 different community organisations and find the right fit. This event is perfect for organisations to gain insights about what students' interests and skills are. What a powerful and enriching event for both students and community organisations! Check out all the great event pics!!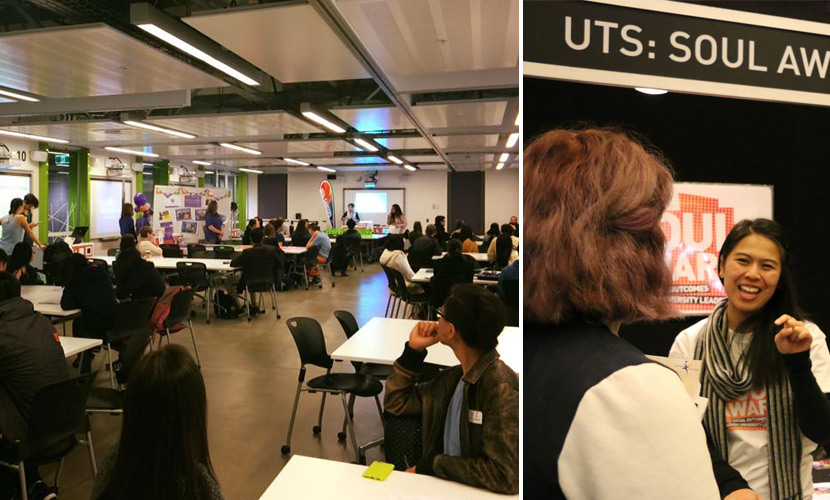 ---
Murdoch University

Murdoch University started #NSVW15 off with some Murdoch student volunteers in action! Winter is Coming was a fantastic, fun festival day.
There was also plenty of free popcorn at the Murdoch Volunteering Hub's Pop-Up Theater, where movie-goers could witness the awesomeness of their super-super active volunteers - Junie, Darya, and Hanif!!
What a great way to share powerful stories about volunteering and its heroes with the student community! They signed-up 50 people to get more information about volunteering during #NSVW15 – knowing that students are eagerly interested in helping the community, their studies and themselves through volunteering is just absolutely fantastic!! They are completely inspired to make a positive change!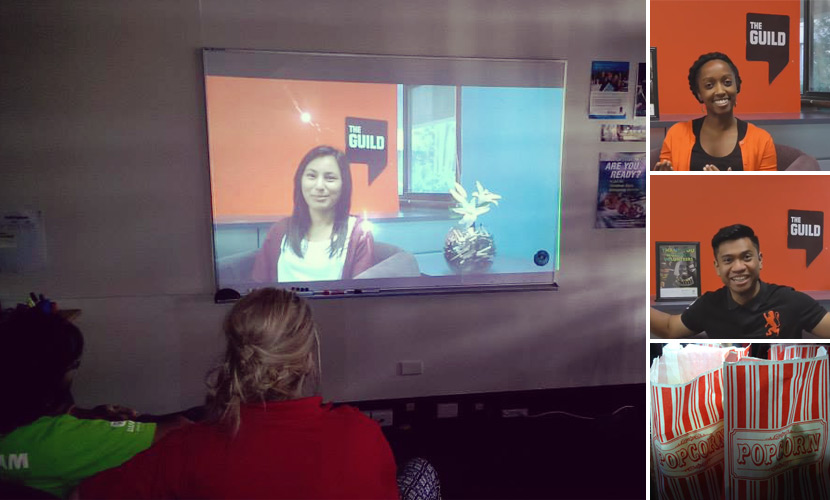 ---
University of Southern Queensland
At University of Southern Queensland they hosted #NSVW15 across all their campuses: Toowoomba, Springfield, Ipswich and Fraser Coast. Some of the fun activities included a Winter Warmers lunch, guest speakers, a BBQ and showcased stalls from a range of community organisations. It was great to see so many students filling the auditorium to listen to guest speakers from community groups, employers and their fellow peers!
USQ's three main purposes through #NSVW15 were: firstly, a great opportunity to highlight the relevance of volunteering in anyone's life; secondly, to provide ways for students to become involved with volunteering; and last but not least, to allow volunteer organisations to network with each other as well as with USQ students and staff. Thumbs up!
A great way to achieve some of these goals was to invite student Kelly Hooker to share her story as a volunteer. Kelly does an amazing job at Red Cross Youth Housing and Reintegration Service as well as at The Smith Family where she tutors a small group of primary school students. She also volunteers for the Midnight Basketball program which aims to protect at risk youth.
"If there is an organisation that you are particularly passionate about, it can be worthwhile to check out their website to see if there are any volunteer opportunities available. Being involved in volunteering is one of the best and most important aspects of my life."
Thanks USQ for providing Kelly a platform to inspire her fellow students to get involved!!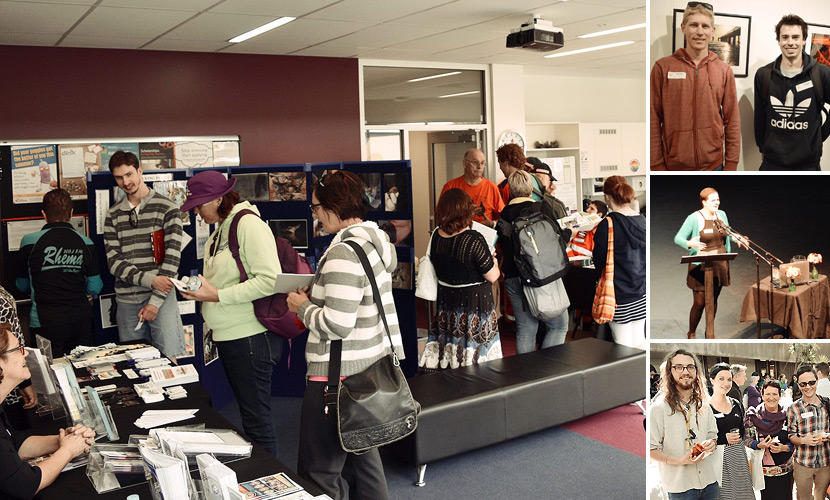 ---
University of Western Sydney
Did you hear 'bicycle-powered-smoothie-maker'? You heard right! University of Western Sydney organised the Fair Food Fair to celebrate the works of organisations such as OzHarvest and Youth Food Movement, as a part of #NSVW15. Awesome job guys!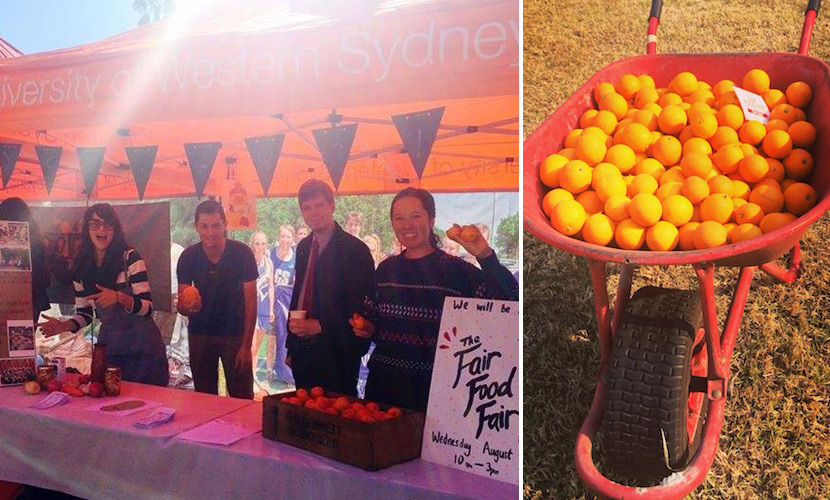 ---
Griffith University
Happiness was a prevalent theme at Griffith University's Volunteer Experience Fairs on both their Gold Coast and Nathan campuses. Many students were saying they were motivated to volunteer in order to make their community a happier place and contribute to a better world. It was definitely gratifying to hear so many stories from community groups about their wonderful student volunteers too!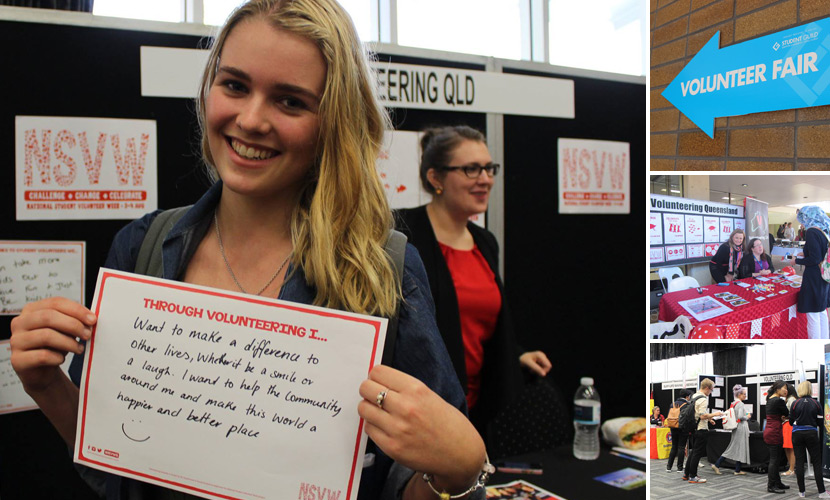 ---
Queensland University of Technology

#NSVW15 at QUT was all about worthwhile workshops.
The QUT Business Faculty, in partnership with Volunteering Queensland, run a two-part module on making a difference, community leadership, social impact and in particular on how students can increase their level of involvement in community and enhance their impact.
Volunteering Queensland also supported the QUT Changemaker Program's special project development day. The Changemaker Program is a unique collaboration which supports 15 students over 12 months to take an innovative idea with a social justice impact and make it happen. The projects range from youth mentoring, to development of a wellness database for seriously ill patients, to social activist projects. On the day the Changemakers looked at overcoming barriers and detailing final action plans to move toward putting their innovative projects and programs into action.
As part of Murri-Ailan Way, QUT held stalls on their Gardens Point and Kelvin Grove campuses for their Book Swap, a fundraising event for the Indigenous Literacy Foundation. Organised by the student-run group QUT Big Lift, it's also part of their program promoting and supporting Aboriginal and Torres Strait Islander culture, talent and community. QUT Big Lift was also involved in a mid-year road trip through regional Queensland, engaging in service learning and community volunteering.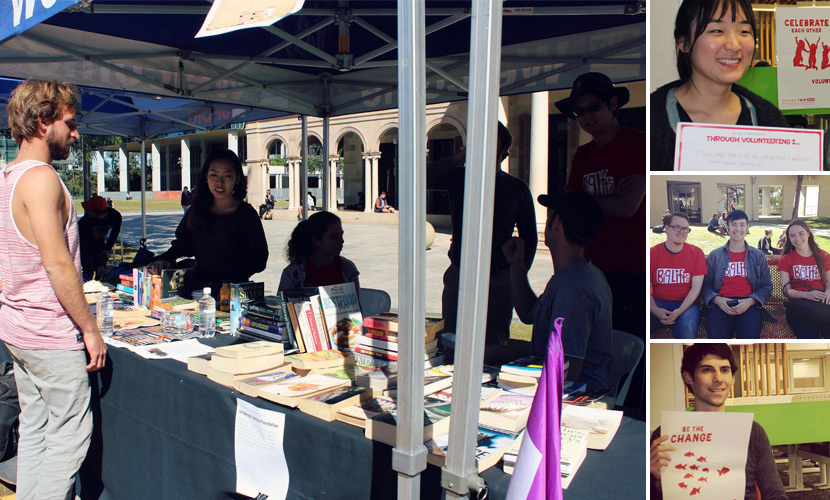 Learn more about QUT Big Lift in this video produced by our talented #NSVW15 team:
---
RMIT University
RMIT Career Development and Employment brought #NSVW15 to their City, Brunswick and Bundoora campuses! Their Internships and Volunteer Fair had a line of champions ready and waiting to network it up. They also had workshops, Q&A sessions with AIESEC RMIT, VGen RMIT and RMIT Link Sports and Recreation, a volunteer celebration with volleyball and heaps more. Great stuff!!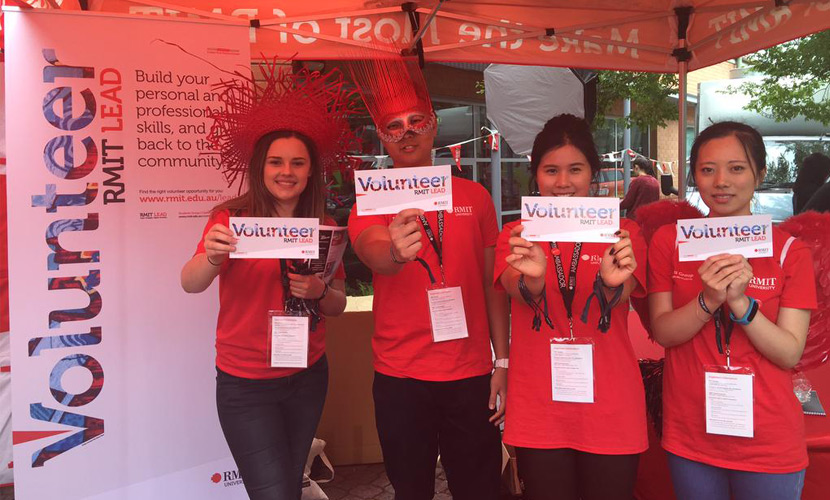 ---
Monash University
Monash University had some exciting events planned for #NSVW15. Their jam-packed schedule included a resume workshop for student volunteers, BBQ, panel, volunteer expo, and a good old morning tea!! While having some coffee, hot chocolate, tea and something to nibble on, students chillaxed or caught up with friends! A great way to say thank you to student volunteers for their awesomeness. Also, students had the chance to meet representatives from different volunteer organisations and discuss the amazing opportunities they offered for students to make a change.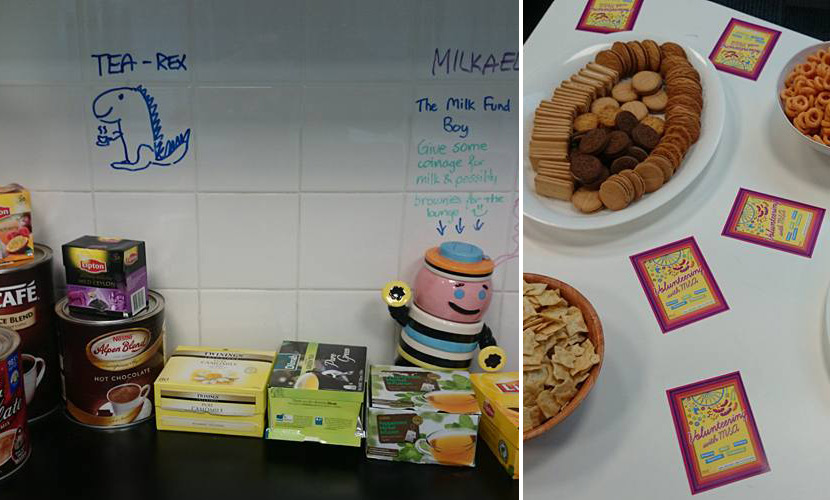 ---
Edith Cowan University
Edith Cowan University invited all students to participate in #NSVW15 with a yummylicious free BBQ! A networking event was held so students could learn more about real volunteer opportunities with the potential to offer a changing and challenging experience. Go ECU students!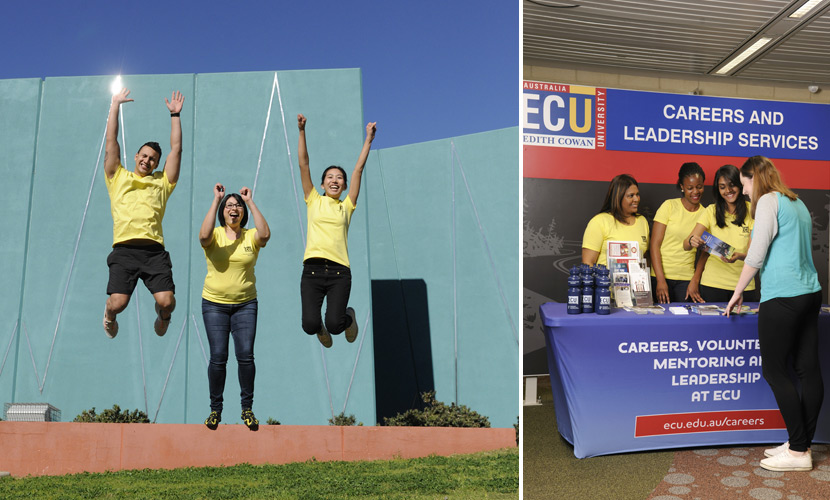 ---
Southern Cross University
Thanks to Southern Cross University for sharing the determined story of their midwifery student Asha, who has wanted to be a midwife since she did a birthing subject when she was 11-years-old. Asha has planned out her dream career: a midwife in the Australian Air Force. Another degree and overseas volunteer experiences will help her get there.
"The Air Force send midwives to developing countries, war torn areas and disaster zones to work in communities to help women give birth. I need a nursing degree, too, so I'll do that at SCU after midwifery. I've had two overseas volunteer experiences so far - Borneo in 2013 at an orangutan rehab centre and in 2015 I went to South Africa to work in a crèche (a combined orphanage and daycare centre), and helped build a soup kitchen as well as a library at the local primary school. Volunteering in these developing nations gives me valuable experience in understanding different cultures and ways of life so that when I'm posted overseas with the Air Force I'll have an idea of what to expect. Volunteer experiences also look good on my resume."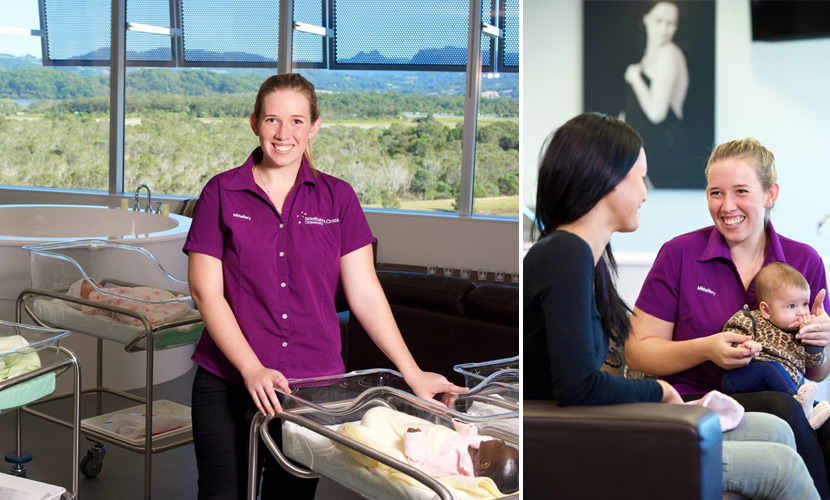 ---
Flinders University
Flinders University celebrated #NSVW15 with its Volunteering Expo and Volunteering Panel Forum!
At the expo students had a chance to network with a variety of volunteering organisations and explored the opportunities they offer! The panel forum covered why volunteering is good for you personally and professionally, how to prepare and apply for positions, how to be a great volunteer, ways to develop your skills and abilities and how to make the most of your volunteer experience when applying for paid work.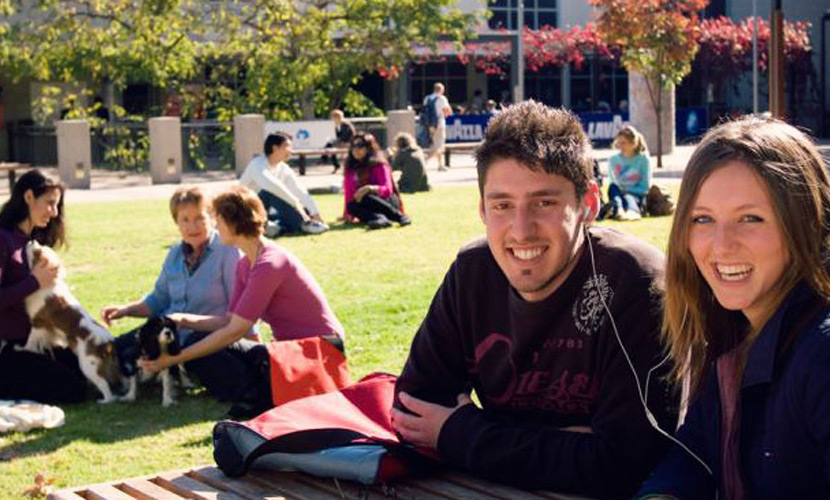 ---
Bayview College

Students from Bayview College together with the Glenelg Shire celebrated #NSVW15 by recognising the valuable contribution young people make to their community. Through this event, students had the chance to learn about meaningful ways for them to participate in youth initiated events to make a difference in people's lives. Bayview College Year 9 students are focusing on community involvement through the Circle Program. The program takes the students out of the classroom every second Tuesday in a holistic approach to personal, spiritual and academic growth. Read more here.
On their Facebook page, Bayview College highlighted the range of ways their students volunteer, from gymnastics coach to Blue Light Disco committee, from runner for the West Portland Football to basketball coach.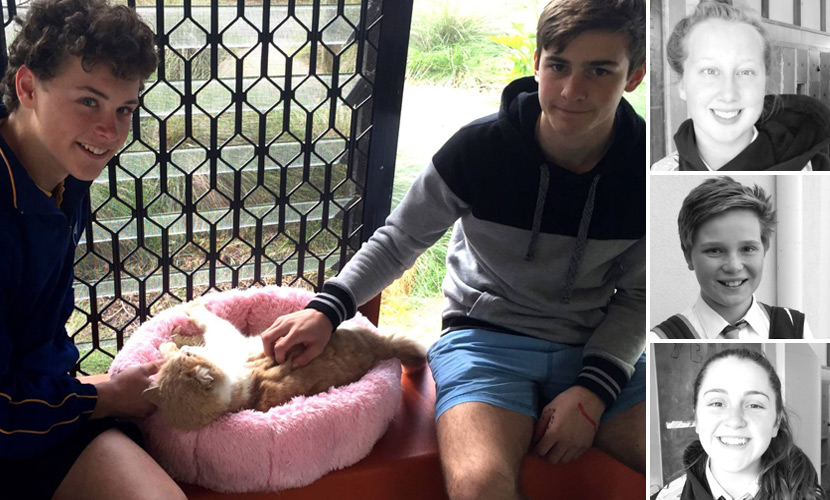 ---
The Salvation Army Youth Outreach Service
The Salvation Army Youth Outreach Service (YOS) celebrated #NSVW15 by hosting their own Volunteer Expo, which highlighted various organisations in the community that people can access and volunteer with. There were stalls, presentations, plenty of smiles and great food!
YOS Alternative Education Program students coordinated the expo as part of the practical hours needed for their Certificate II in Active Volunteering through Volunteering Queensland's Students As Active Volunteers Initiative (SAAVI). The students were responsible for a stall holder, which they liaised with in the lead up to the event and assisted on the day.
This event also launched the Couch Project which aims to raise awareness and funds for young people struggling with homelessness.
We congratulate all YOS and Alternative Curriculum Education (ACE) students for the time and effort they put into this expo and very much look forward to next year's event. Well done everyone!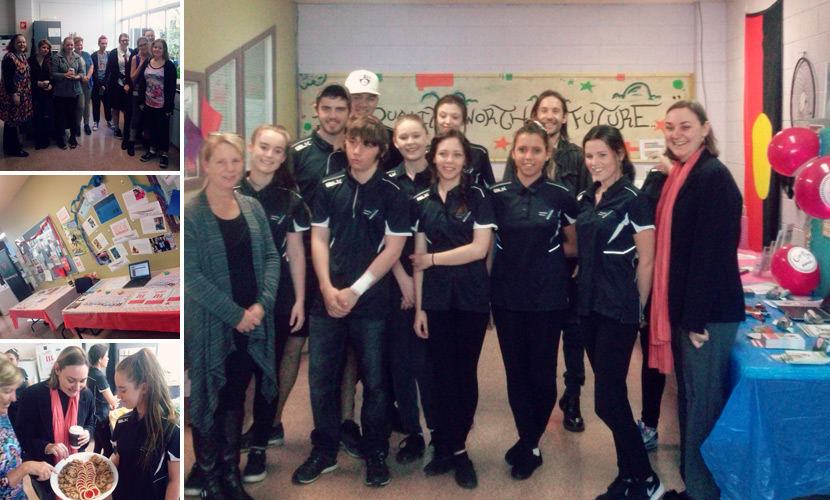 ---
Community student volunteering projects
We encourage nonprofits and community groups to plan meaningful projects for students to get involved in during the big week.
Activities this year were with Conservation Volunteers Australia where student volunteers could help with environment conservation, from restoring Tasmania's ruins, to planting and weeding in Victoria to coast care and bird-watching in Darwin! Greening Australia also offered a special volunteering event at their nursery in Aranda, where students could assist re-potting local native wildflowers restoring the diversity of endangered grassy woodlands around Canberra.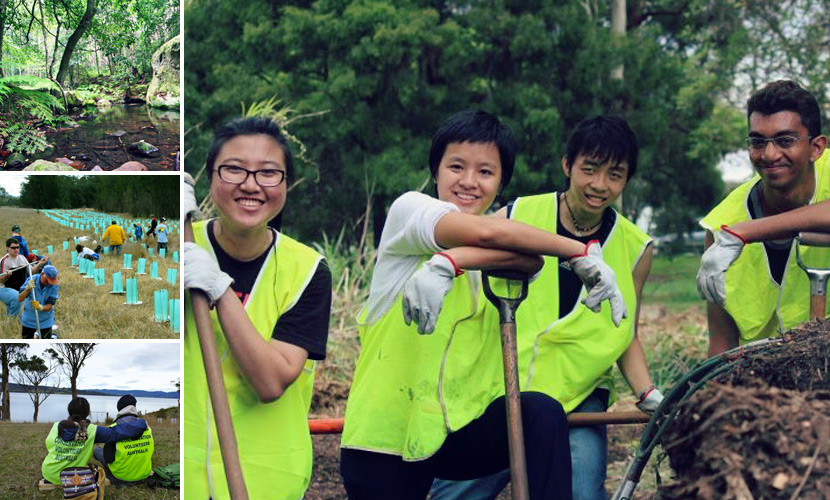 ---
Plenty of publications
Fostering a Culture of Giving: Volunteering and the Australian Curriculum
When it comes to making volunteering a norm in society, it all starts with our youth. With this in mind, Volunteering Australia and Volunteering ACT launched an exciting range of new resources that offer a practical way for teachers from Foundation to Year 10 in all subject areas to structure learning about volunteering within the normal classroom program. This will help schools to guide the young people of today's society onto a path of compassion and generosity.
Channeling Enthusiasm into Sustained Action: Fostering the Changemakers Journey
Youth-led organisations have changed volunteering as young people no longer think of themselves as volunteers but as changemakers, social pioneers and most of all leaders. At the Queensland University of Technology Changemakers Program, Volunteering Queensland released this thoughtful new research publication that identifies the core factors on how to foster the changemakers journey. Key themes that motivate and engage young people were identified: culture, care, and growth. Activities and ideas are provided to inspire leaders to improve their leadership of their teams.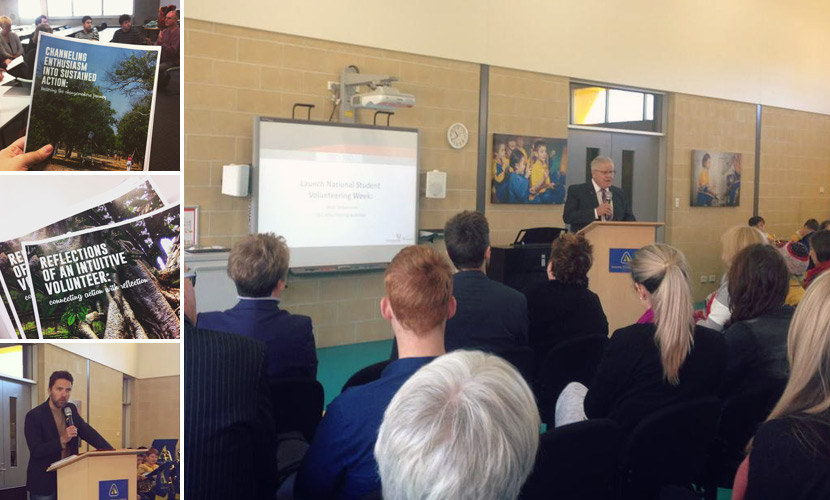 Volunteering to Learn: Enhancing learning in the student volunteering experience in Australian universities
Post-NSVW, Murdoch University, Volunteering Australia, Volunteering WA and other academic and government supporters, launched the Volunteering to Learn website and resources.  
This project, which took place over the past two years, identified how universities, students and host organisations work together to enable successful outcomes for all parties. Good practice guides and concept guides have been developed which identified three types of university student volunteers, four types of host organisations and eight models in operation across Australian universities. A companion guide has been developed to offer more information on some aspects of university student volunteering.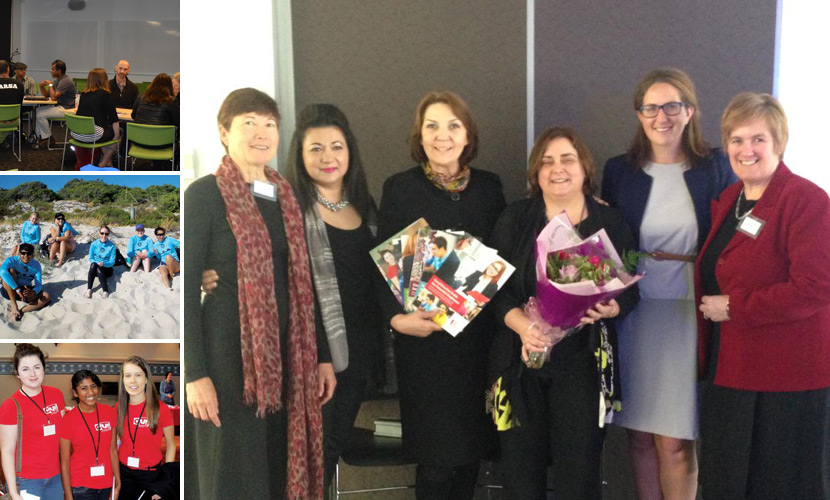 ---
Thank you's all round

It warmed our hearts to see lots of nonprofits and community groups celebrating their student volunteers.
Here's just a couple from Youth Diversity Group Warrnambool, Ardoch Youth Foundation, Gold Coast Marathon, and Interchange Inner East.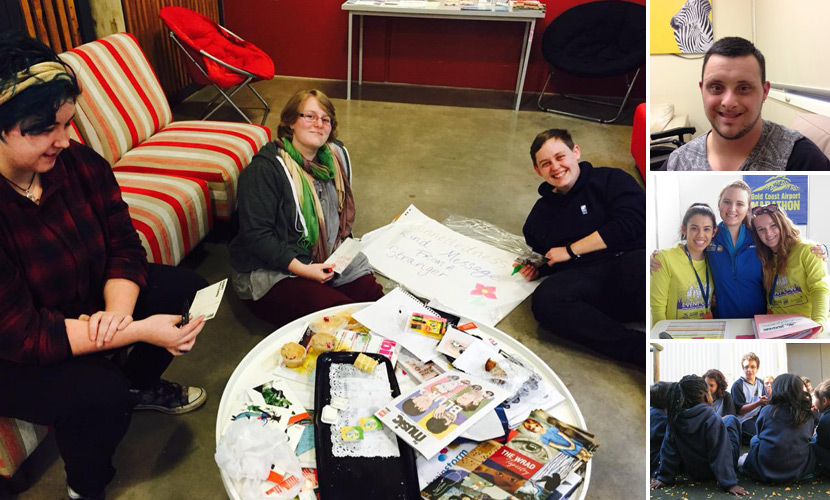 ---
Social media signs
Thanks a million to all the kind folks who got involved, taking photos with our social media signs!
Students shared what volunteering means to them and organisations shared what student volunteers have helped them achieve. Shout-outs to the awesome humans pictured below from La Trobe University, Endeavour Foundation, Multicap, and Surf Life Saving.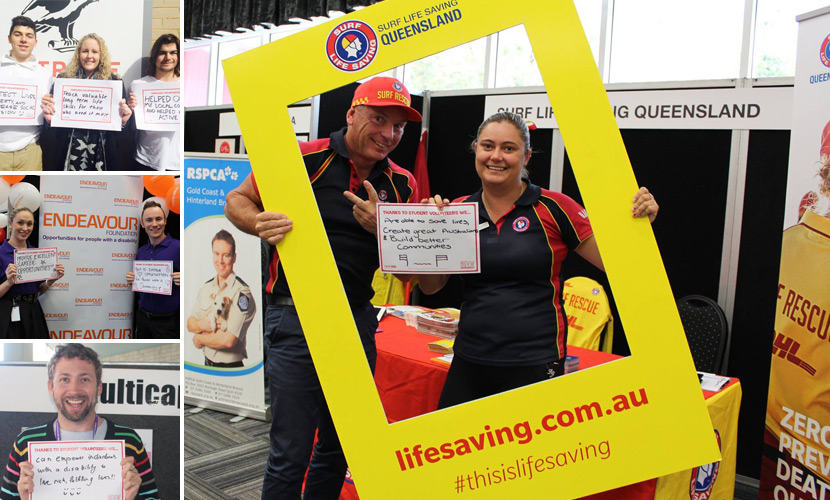 ---
Student volunteer stories
So many fantastic stories of how student volunteers make an impact were shared during the week.
From Interchange Inner East we heard from: Julie "Volunteering has allowed me to meet so many wonderful, strong, passionate and charismatic individuals. It's so fulfilling to make a difference in somebody's life, just by spending time with them"; Tim "What I like about volunteering...is meeting new people"; and, Isobel "I've really enjoyed my time being a recreation volunteer...mostly because the activities have just been so much fun for everyone involved."
Lung Foundation Australia joined in by sharing the experiences of Naomi, a public health student at Queensland University of Technology, who works on several projects with their Chronic Obstructive Pulmonary Disease National Program team. "Going out of your way to volunteer is rewarding, helps you grow as an individual, helps you learn life lessons and gives you the necessary experience for after university."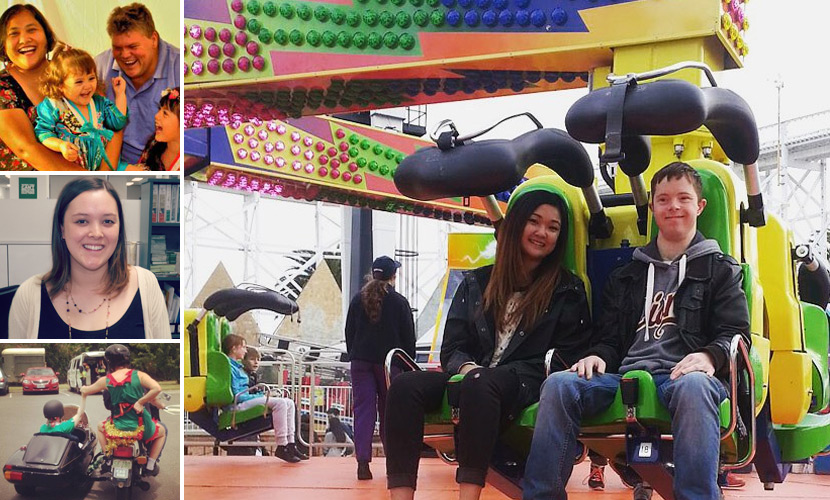 Then there's Amelia, a student volunteer in her third year of studying anthropology at the University of Queensland. She is a kitchen-hand at a homeless shelter in Brisbane and in the video below speaks of the wonderful and resilient people she has met through volunteering. Amelia discusses the skills she has gained from volunteering and offers up her advice to young people who are looking to volunteer. What a great example of a student making a change.
---
NSVW team

Our team enjoyed being out and about at #NSVW15 events. We loved offering encouragement to students thinking of volunteering, being inspired by all the amazing work students are already doing in their communities, and getting our interview on!!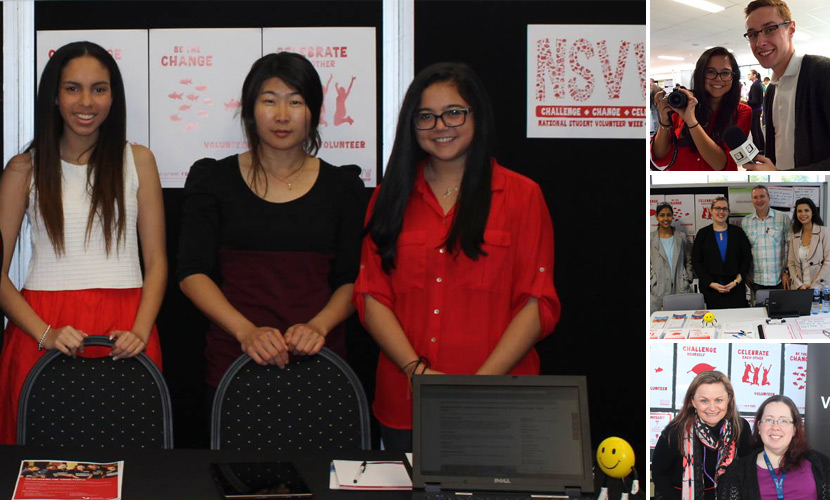 ---
Media coverage
666 ABC Canberra Drive had on air two of the youngest volunteers they've ever met, Lucinda and Declan.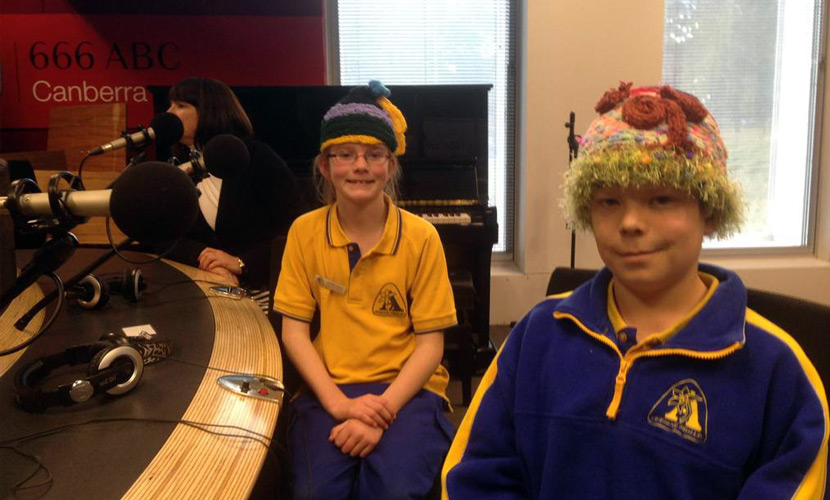 The POST recognised 50 Mercedes College and Santa Maria College students who helped out at MercyCare WA over the holidays. "The students are vibrant and enthusiastic always willing to assist staff and clients." "Volunteering helps introduce the students to new experiences outside their environment, and they get to enjoy the rewards of knowing they've made a difference in other people's lives."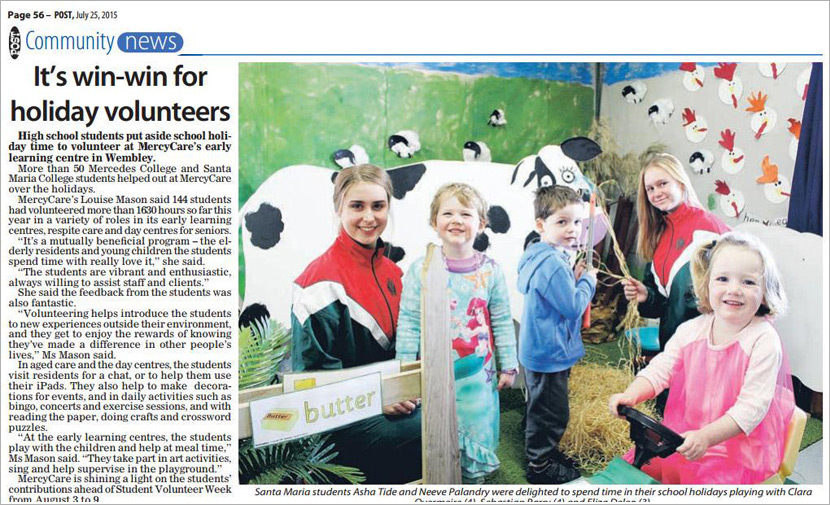 USQ's HeyU Magazine Issue 34 was loaded with #NSVW15 goodness!! There's an inspiring story from Ally who lived through the Nepal earthquake. Ally has been volunteering since she was very young, describing the experience as eye-opening, challenging and life-giving to self. Then, there's info on how volunteering can do wonders for your physical and mental health, plus, volunteering for personal and professional growth.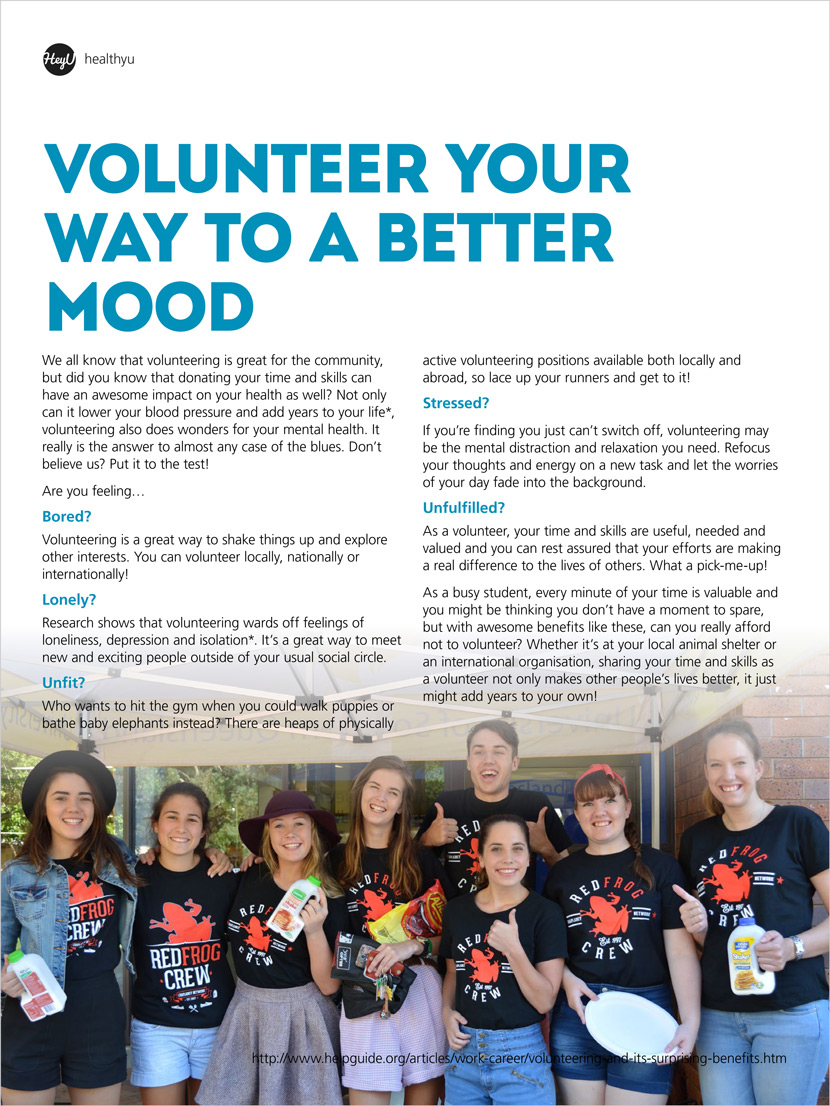 ---
Don't see what your uni, school or organisation did for #NSVW15 above? Send us an This email address is being protected from spambots. You need JavaScript enabled to view it., we'd love to hear how you were involved and add your story to this page!