Experience what happened during 2016's National Student Volunteer Week!
Prepare to be inspired from the amazing happenings of the annual National Student Volunteer Week #NSVW16! A massive thank you to the 19 education providers, the thousands of students and all the impactful community organisations involved. It's individuals and groups likes yourselves who made #NSVW16 a blast!! 
---
Federation University
Federation University Student Leadership and Volunteer Program had a bumper of a week with plenty of #NSVW16 events and activities!
For the first time, Federation University hosted an informal networking lunch for interested students and local volunteer-involving organisations to meet, share stories and discuss volunteer opportunities and ideas. The lunch was an absolute success with an unmissable buzz in the air, as happy tummies and happy hearts chatted about all things volunteering. 
As usual there was tremendous amounts of excitement happening on campus for their volunteer expos, with students even having the chance to participate online if they couldn't physically attend. This year saw the 'Day for Girls' packaging day, which aims to make sure girls have access to education once they are teenagers by providing them with reusable and hygienic sanitary products. The notably popular packaging day paired with a pizza lunch was an exceptional success! With over 100 packages being complete - fantastic effort everyone!   
There was the annual community sleepout in which students experienced what sleeping on the streets is like - an eye-opening experience fueling great discussions. In addition to the return of the popular Pop Up Op Shop, student blood donation, bbqs, competitions and the annual campus clean up.
FedPress Magazine supported #NSVW16 with Selin Kasif sharing her volunteering journey, from aiding people experiencing homelessness in India, community projects in Africa, and working with the editorial team of FedPress:
"Volunteering is something that not only benefits the people you choose to help, but also yourself. It has allowed me to build up professional relationships and lifelong skills, and it has allowed me to have a different outlook on life and the way I choose to live it."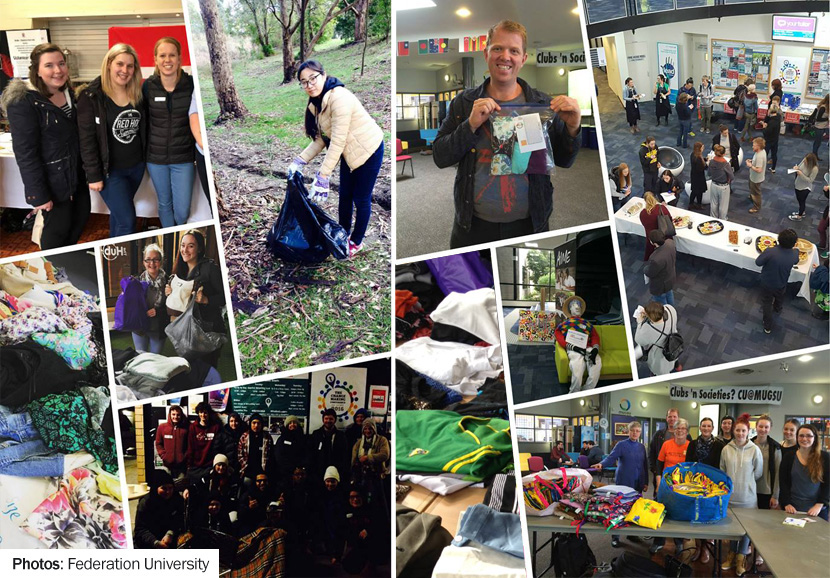 ---
Charles Darwin University
To celebrate #NSVW16 the Charles Darwin University Aspire Program team and students have created a video showing senior secondary students from around the NT volunteering in their local communities in Alice Springs, Katherine, Nhulunbuy, Palmerston, Yirrkala and Yulara.
Every year our CDU Aspire students find diverse ways to give back to their community. In 2016 they found their students volunteering at the Uluru Camel Cup and Surf Life Saving Australia, as well as a number of other charitable and local organisations.
This year they also celebrated by having a free cupcake stall to thank all of their student ambassadors - what a deliciously sweet gesture!!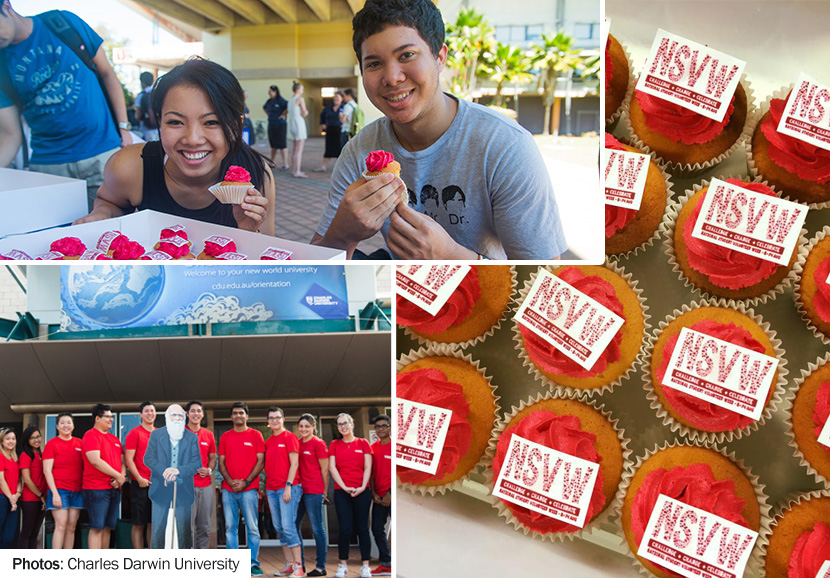 ---
Griffith University
The aura of passion was unmissable at this years Volunteer Experience Fairs at Griffith University. Held across both Nathan and Gold Coast campuses, students made friends with many nonprofits including The Wilderness Society Qld. All students alike said that they were motivated to volunteer, in order to make their community a healthier and happier place to live in.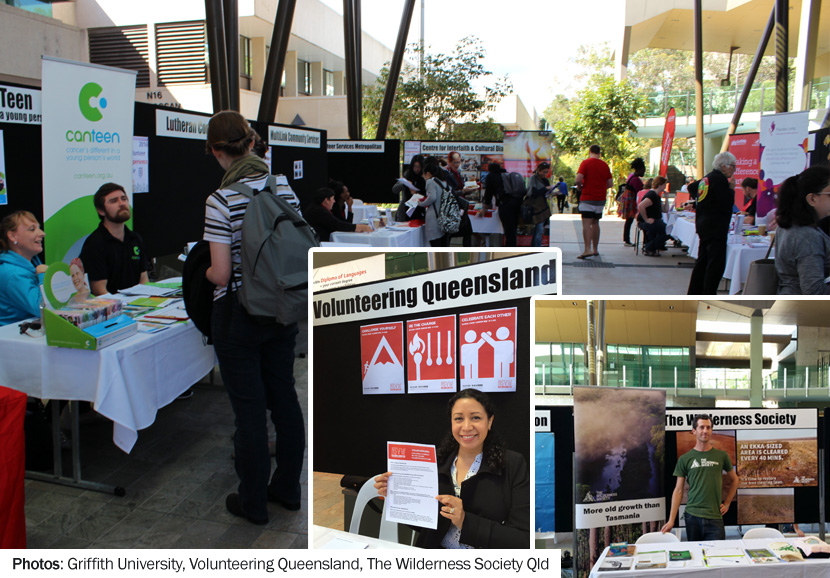 ---
Monash University
Monash University planned some amazing activities for #NSVW16!
Their event-fueled week included the 2016 Volunteer of the Year Awards night held to celebrate the passion and excellence of Monash student volunteers. A huge congratulations to Pratik, Riley and Teddy for individually winning 2016 Volunteers of the Year - a tremendous effort!!
Other events included a panel discussion covering the personal and career benefits of volunteering and volunteering pop-ups where students could connect with the Monash University Career Connect team to learn about specific projects they can be involved in.
All events gave students the opportunity to build enthusiasm and gain advice on how they can 'be the change'.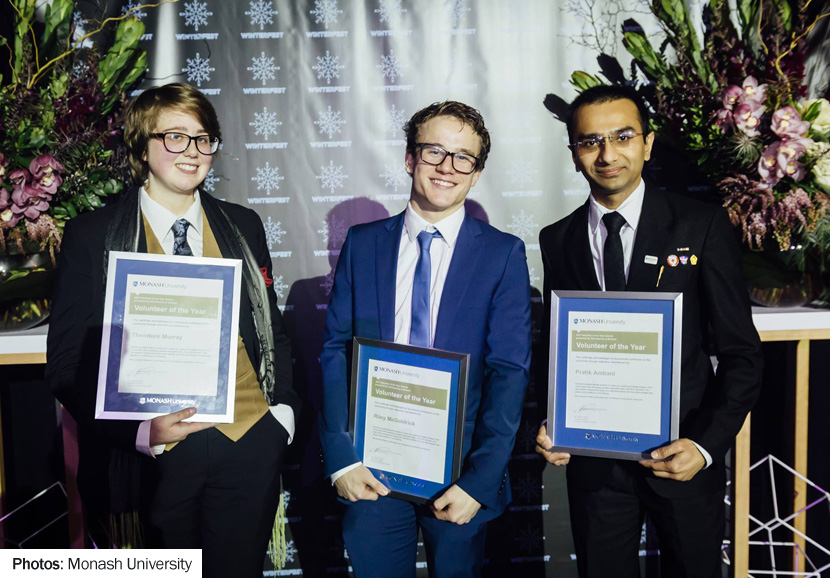 ---
Murdoch University
Murdoch University knows how to celebrate #NSVW16 with Murdoch Volunteering Hub student volunteers in action!
The week kicked off with student volunteers creating accessible raised garden beds at an aged-care facility, with residents and student volunteers alike enjoying the pleasures of social gardening.
The next event saw Murdoch University collaborate with Curtin Volunteers, the Notre Dame Volunteer Network, Edith Cowan University and UWA Guild Volunteering to plant 2,400 seedlings with the Friends of Lake Claremont. A fantastic effort and huge shout out to all involved!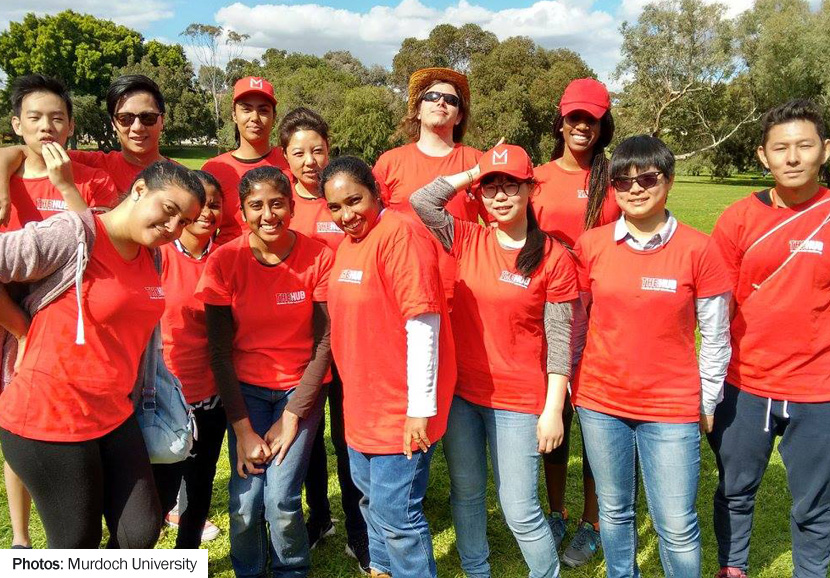 ---
University of Queensland
Students packed the hall to visit numerous stalls from different community organisations at the University of Queensland's eighth annual Volunteer Expo.
Additionally students were invited to attend a panel session where experts discussed how volunteering can increase your employablility and how to get the most out of your volunteering experience.
Our #NSVW16 crew that were present witnessed the student's motivation for making a difference in the world.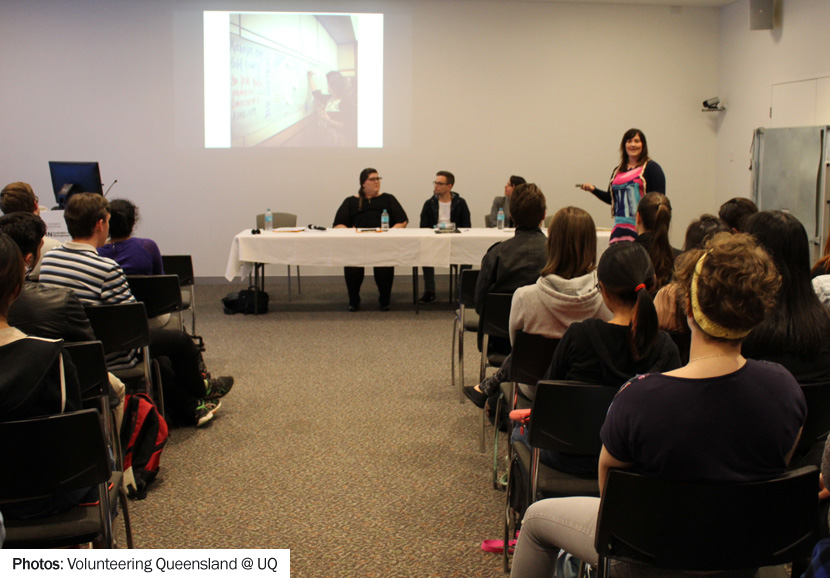 ---
University of Southern Queensland
This year at the University of Southern Queensland events were held at all campuses in commemoration of #NSVW16!
Some of this years fun included a BBQ, showcased stalls from various community organisations, resume building workshop, free networking luncheon and the always popular Q & A panel morning! It was incredible to witness so many aspiring and current student volunteers filling up the rooms at each event, showing their passion for volunteering.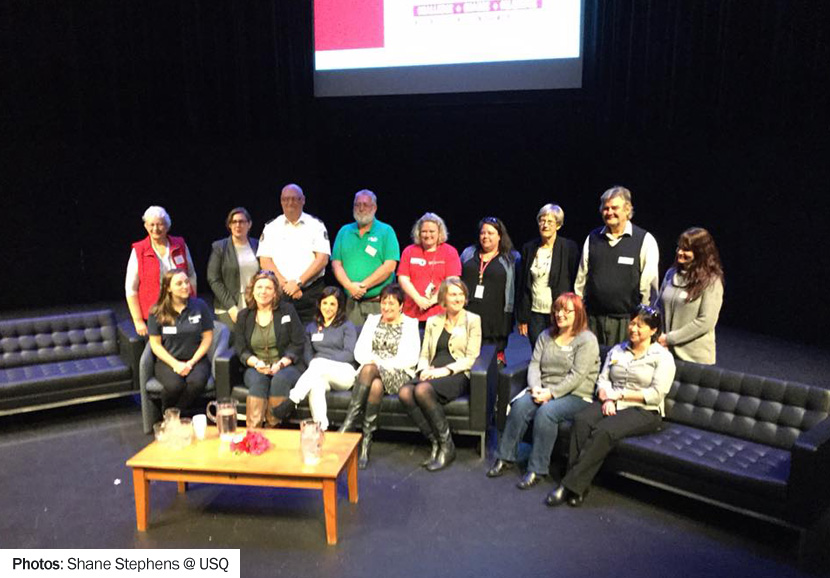 ---
University of Western Australia

The University of WA certainly have a unique way of celebrating #NSVW16! 
Each night of the #NSVW16 had inspiring yet different presentation based around the theme of inclusion. The different topics of discussion were Aboriginal & Torres Straight Islander's, gender & sexuality, intercultural & interfaith, disabilities and mental health. It was amazing to witness such captivating and educational speeches, with messages that our student volunteers will no doubt fulfill. The week continued with the annual student volunteers picnic, luckily with a delicious picnic provided student volunteers were able to mingle and form connections. 
Student volunteers from the University also took part in UWA club carnival, where they had a stall dedicated to student volunteering perks and opportunities. Inspiring to see so many passionate volunteering students talking about their experiences. 
Additionally they were involved in the inter-University tree planting event, where over 2000 seeds were planted with an aim to restore Lake Claremont back to its original state. What a bunch of superstars!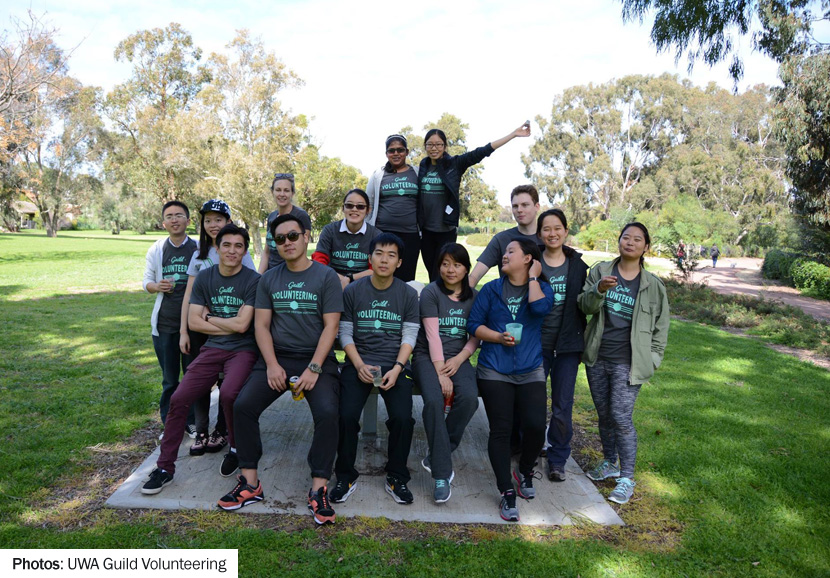 ---
RMIT University
The presence of #NSVW16 was powerful at RMIT University's Career Development and Employment expo, with networking happening between student volunteers and students; left, right and centre!! Additionally they held resume building workshops and Q & A sessions regarding opportunities to volunteer overseas! What an experience!!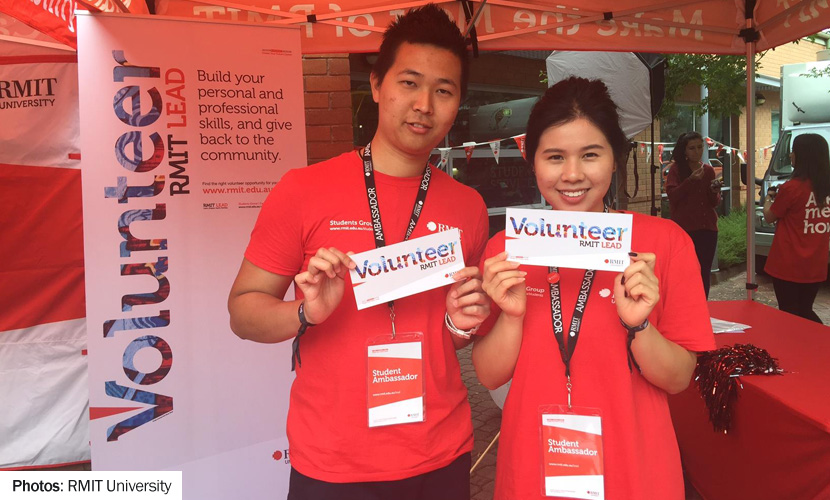 ---
Edith Cowan University 
Edith Cowan University students went all out for this years #NSVW16!! Firstly they played a massive part in the inter-University planting event, dedicating time to a very worth cause. Additionally they put on a Q & A with industry professionals regarding current world issues and how volunteering can help aid some of these issues. The fun continues with a morning tea for student volunteers that gave them a chance to mingle with panel professionals!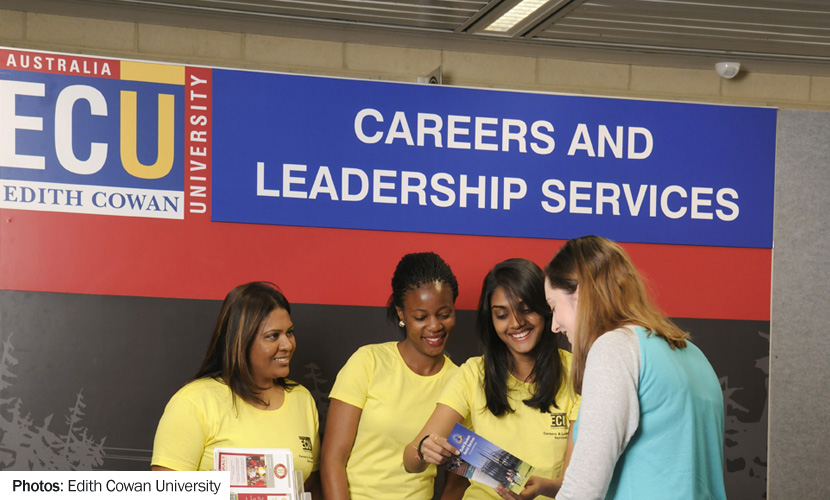 ---
Curtin University
The Friends of Lake Claremont inter-university tree planting event was a great success for Curtin University students during #NSVW16!! Curtin University student volunteers linked up with students volunteers from all around Perth, together as a team they planted thousands of trees. No amount of bad weather could stop these inspiring volunteers from doing an amazing job, nor wipe the smiles from their faces!! The power of volunteering is breathtaking, a massive congratulations to Curtin University for their ongoing commitment to NSVW16!!
---
University of Notre Dame
The Friends of Lake Claremont inter-university tree planting event during #NSVW16 showcased the volunteer and community spirit at the University of Notre Dame!! University of Notre Dame student volunteers partnered up with students volunteers from all around Perth, planting thousands of trees. The weather was wet and windy but that certainly didn't stop these hardworking individuals from getting the job done. The smiles and high spirits of all participants was infectious and uplifting. A true exemplar of how volunteering brings communities together and for such a fantastic cause!!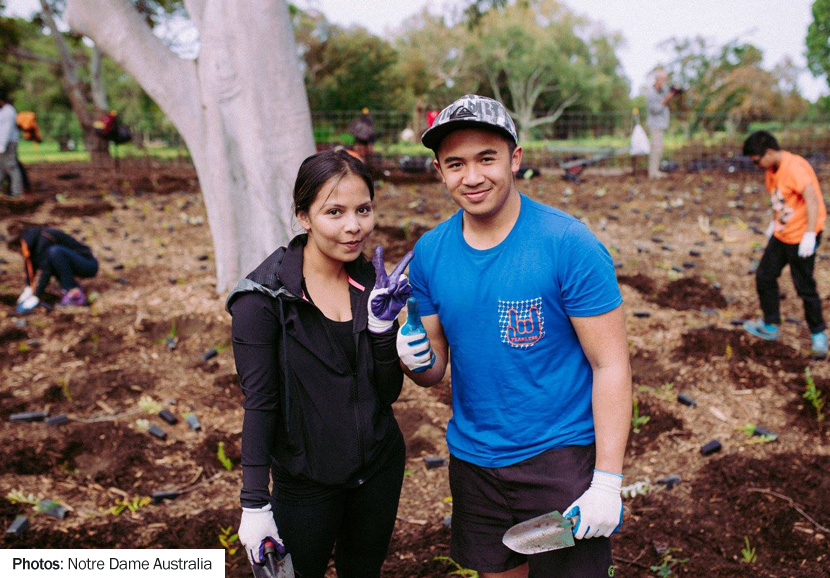 ---
La Trobe University
La Trobe University always know how to put a unique spin on #NSVW16! La Trobe University had a big drive to reduce their environmental footprint and reduce their impact on the environment. A large part of their push, is to improve their moat system to allow more storm water usage for non-potable purposes. This will essentially lead to a reduction in total potable water use and make the university more water efficient, reducing the impact to the environment! Wow!
Activities throughout the week included: hand weeding, woody weed control, rubbish removal, planting of indigenous plants and maintenance of existing vegetation.
Heart warming to see so many student volunteers involved, keep up the amazing work La Trobe University! A bunch of passionate, environment conscious superstars!!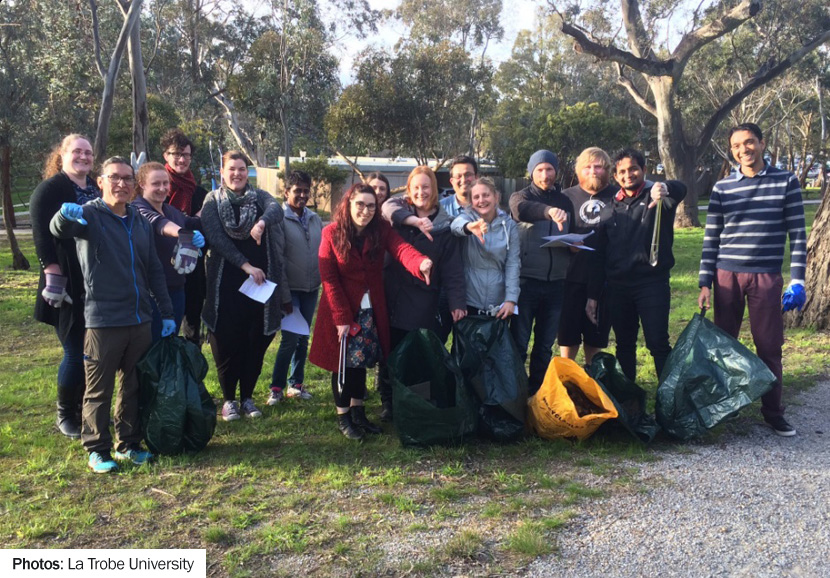 ---
University of South Australia
The University of South Australia went all out at this years #NSVW16, with an array of activities across the campuses. From a mini festival which provided music, a BBQ and games, all whilst giving students the opportunity to learn about volunteering options. As per usual they also hosted their annual Blood Drive in collaboration with the Australian Red Cross Blood Service, a very worth cause!! This year the University has also introduced the International Women's Development Agency, which focuses around Women's rights. Plenty of interesting talks and activities hosted by the University to reinforce the rights of a Woman, beautiful!
The brave student volunteers also conquered the cold and committed to their annual Community Sleepout! Such a fantastic effort, I'm already excited to see what the University of South Australia will put on next year!!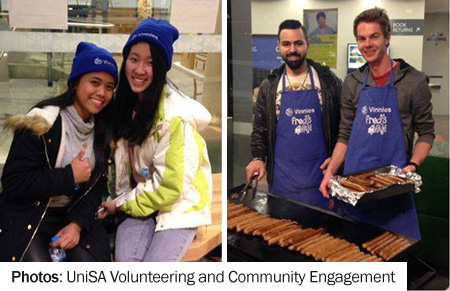 ---
Flinders University
Flinders University celebrated #NSVW16 with their annual Volunteering Expo and Volunteering Panel Forum!
At the expo students had a chance to network with a variety of volunteering organisations and explored the opportunities they offer! The panel forum covered why volunteering is good for you personally and professionally, how to prepare and apply for positions, how to be a great volunteer, ways to develop your skills and abilities and how to make the most of your volunteer experience when applying for paid work.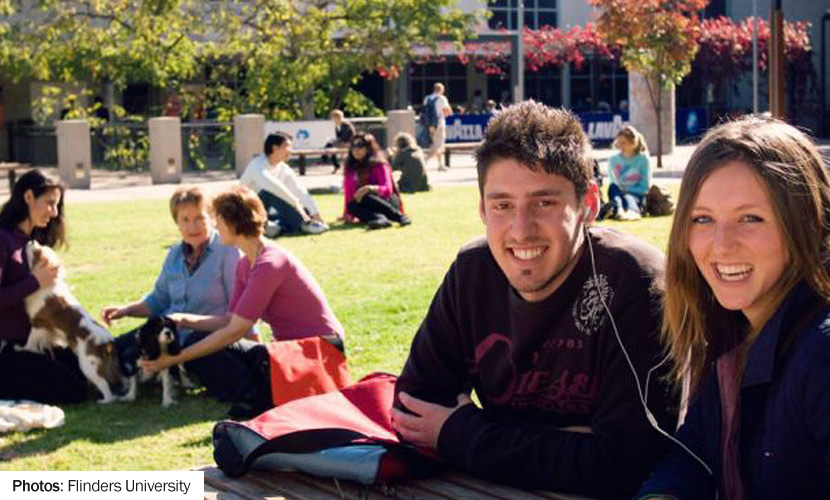 ---
University of the Sunshine Coast
A fresh face to #NSVW16, University of the Sunshine Coast sure knows how to enter with impact! The University held a student volunteer expo where students had the chance to network, learn about volunteer opportunities and indulge in a supplied picnic! An amazing way to kick off #NSVW16, we can't wait to go back again next year!!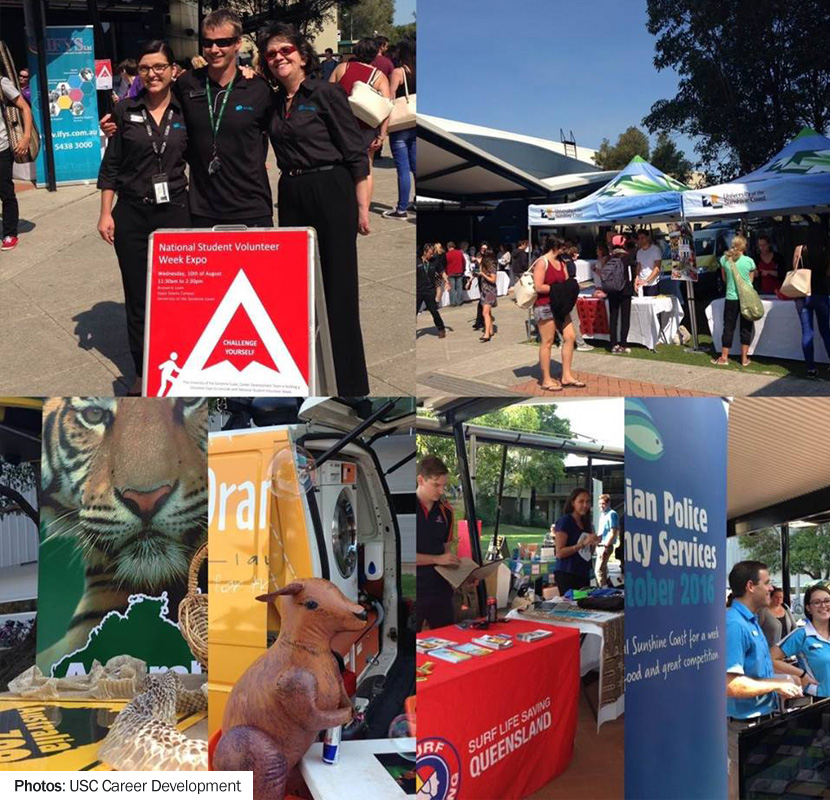 ---
Swinburne University
Swinburne University put on two amazing events at their campus during #NSVW16! The week started off with a student volunteer-run expo, where current volunteers discussed their experiences and shared stories. "Volunteering is surely a rewarding experience, a great way to give back to the community and make friends." Secondly Swinburne University hosted a student volunteer lunch which gave students the opportunity to network while filling their tummies, is there any better way?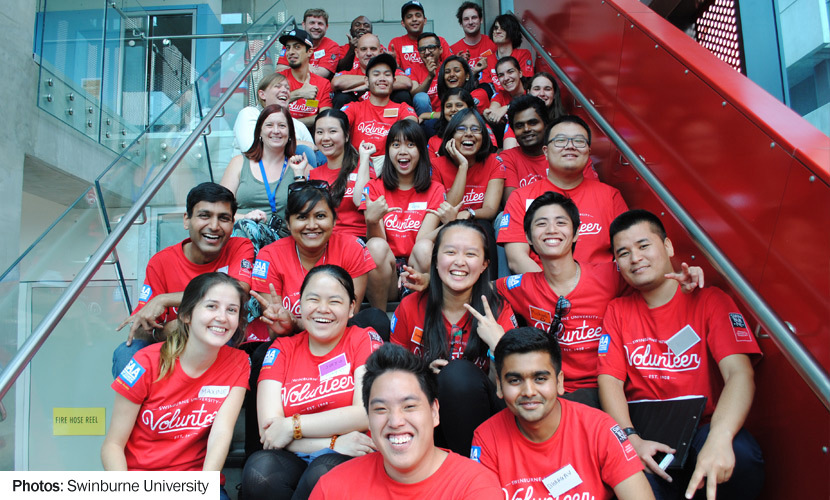 ---
Victoria University
Victoria University sure put on quite a show for #NSVW16 which left all involved on a sugar high, no doubt! Putting a fun twist on an already fantastic week, the Victoria University student volunteers hosted a Happy (un)Healthy Movie Night. Provided with a dinner, movie snacks, a movie under the stars and networking, what more could you ask for? It's fantastic to see such charismatic ways of getting students involved in volunteering, especially when its initiated by other students!!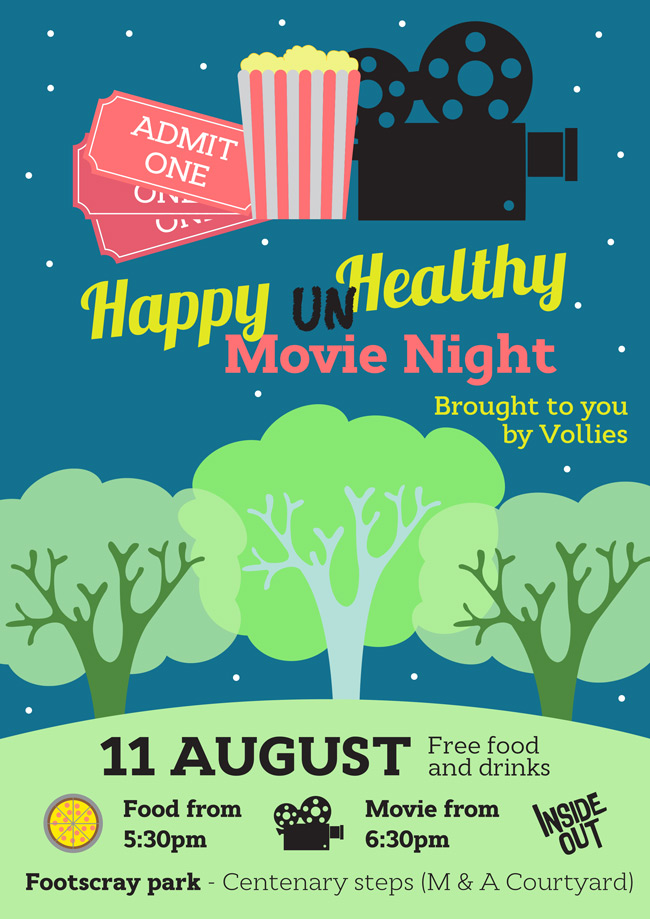 ---
University of Tasmania 
The University of Tasmania bought #NSVW16 to all of their campuses from Hobart, to Launceston and Burnie! What a tremendous effort!! 
Kicking off at the Hobart campus there was the always informative student volunteering expo, which gave students the chance to network and learn about their options within volunteering. Special guest Sam Johnson, the founder of the Student Volunteer Army in Christchurch, also hosted multiple events throughout the week. Starting with a volunteering workshop which gave current and potential volunteers a chance to learn from Mr Johnson. Secondly there was the sharing and networking evening where current and potential student volunteers were able to chat with Mr Johnson and other notable connections. Finally the week concluded an epic caffeine adventure, which gave student volunteers one last chance to chat and ask any advice from Mr Johnson.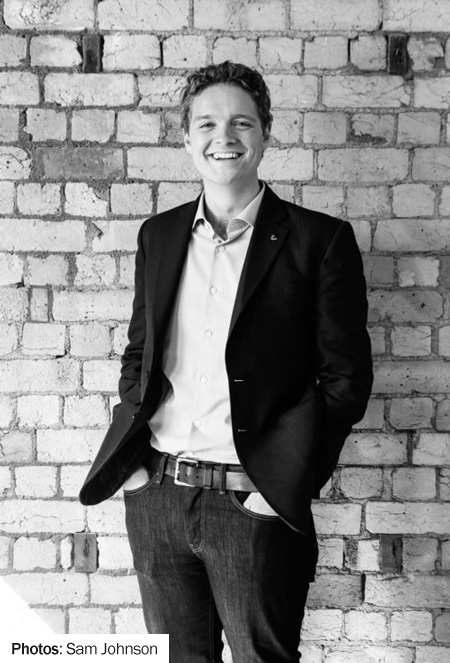 Moving to the Launceston campus, where they hosted an incredibly successful volunteering expo which gave students a taste of what volunteering is and how they can get involved! It's always inspiring to see student volunteers motivating other students to volunteer!
Finally finishing up at the Burnie campus where they hosted their volunteer expo, which gave local volunteer organisations a chance to connect with students and share stories/tips on their experiences. A fantastic contribution to #NSVW16 from the University of Tasmania!!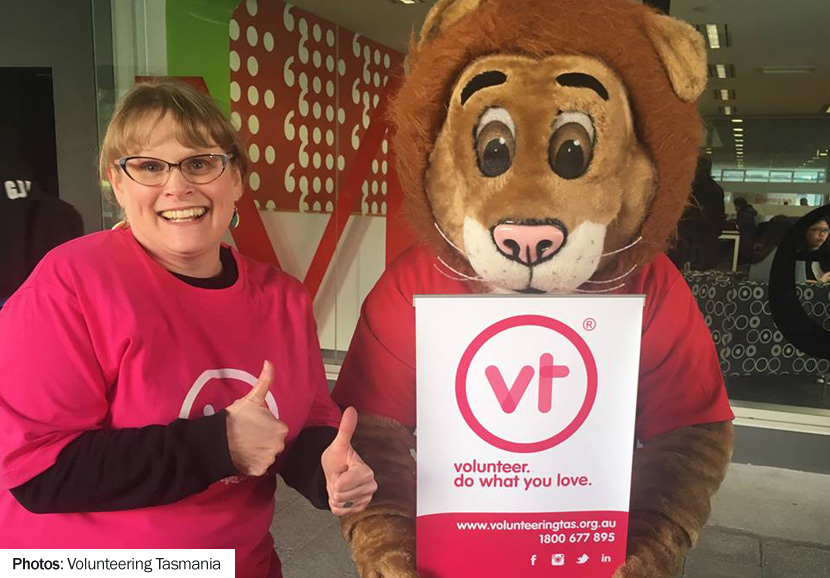 ---
Volunteer stories

CFA (Country Fire Association) is a volunteer based fire and emergency services organisation. Helping to protect over 3.3 million Victorians, with over 11,500 volunteers who are as young as 15 years of age, truly are local heroes. 
Ignite Mentoring believes in a world where every young person receives the greatest possible benefit from their education and has the opportunity to reach their full potential.  Unfortunately, inequality of education prevents too many young people from developing belief in themselves, broad perspectives and high aspirations. Mentoring uses this to address education inequality, by engaging university students as mentors for high school students in low socioeconomic areas in Perth.
UTS: SOUL Award (Social Outcomes through University Leadership) a social leadership and volunteer program for students. UTS: SOUL Award supports students to venture beyond their degree and into the community, applying the skills and knowledge learnt at UTS to the real world, developing leadership skills and building networks along the way. Winners of this years UTS: Soul Awards are all inspiring student volunteers who motivate us to give back to the community more.
One recipient Ruby Wawn is a Law and Communications student who has completed over 330 hours of volunteering with Amnesty UTS, Regufee Advice and Casework Service. "Volunteers are the life blood of most community organisations, even though your labour is unpaid it is invaluable." Ruby is also part of the SOULstar program where students develop their skills in change-making. You're an inspiration Ruby!
Another recipient is Juliet Mwale, a final year student in the Master of Health Services Management and Planning in the UTS: Graduate School of Health. Juliet has completed over 44 hours of volunteering with ACON and The Salvation Army Australia, where she was part of a team focussed on improving temporary housing for families leaving domestic violence situations. "I learnt that sometimes, charity organisations like the drop in home does not only require money donations but also small works of charity like the ones we did." Very deserving of this award Juliet! 
The next incredible receipient is Raisa Rosas Hernandez, a student in the Bachelor of Science in Information Technology Diploma in Information Technology Professional Practice, in the UTS: Faculty of Engineering and Information Technology. Raisa has completed over 90 hours of volunteering with the Ted Noffs Foundation, where she worked to support their op-shop clothing drive. "Through this experience I've learnt an efficient way on keeping track of every task we do, not just for ourselves but also to guide other team members" Keep up with the amazing work Raisa!!

Mariam Abo-Elhoda a final year Bachelor of Business student at UTS is another outstanding individual who received the UTS: SOUL Award. Mariam recently completed 156 hours of volunteering at Royal Far West, an organisation working to provide health services to children in the country. "I have gained valuable knowledge in Human Resources Management (HRM) which has allowed me to put theory into practice and understand how HRM can have an impact on the day-to-day activities of a business. Being part of a company that focuses its efforts on helping rural communities is truly a privilege." Mariam you are an inspirational to all!
Last but certainly not least, we have the amazing recipient Denise Lam! Denise is a Bachelor of Design student in UTS: Design, Architecture & Building. Denise has volunteered over 40 hours with Vivid Sydney, including supervising exhibitions, such as Stephanie Shehata and Erin Slaviero's "Momentum". "I learnt a few more communication skills as I had to explain each exhibit to visitors." Said Denise. "It's a challenge to explain complex concepts to others through your own understanding yet to keep it concise."Denise, you give student volunteers an exceptional name!!
The purpose of Volunteer Task Force is to ensure people of limited financial, social and physical capacity will be able to live with safety, amenity and comfort in surroundings of their choosing. Volunteers are the heart and soul of this organisation which offers services such as: gardening, home maintenance, domestic assistance, social support and transport. VTF's Volunteer Coordinator, Adrian recently shared news of the influx of student volunteers. "We have had a real influx of students volunteering this year, the word seems to be getting around about our flexible volunteering opportunities and the benefits provided about developing new transferable skills and also that it is fun!" It's motivating to see young volunteers supporting such a worthy cause. 
Year 9 student Mitchell has set a good name for all volunteers at such a young age. Mitchell recently volunteered for the VTF, assisting in one of his most passionate areas gardening. The fellow gardeners were so impressed by his manners and knowledge of gardening, that they would love to have him back again! Thank you so much for making such a difference Mitchell, your passion is inspiring. 
Volunteering Bendigo promotes, celebrates and supports volunteering across Central Victoria. Volunteering Bendigo connects people through volunteer activity with a strong emphasis on youth or student volunteer engagement. With students across Bendigo from all different backgrounds and study disciplines, it's inspiring to see what the world of volunteering can produce in a community!
---
Thanks!!

A massive thank you to everyone who contributed to #NSVW16 and made it the spectacular success that it was!
If you have any photos or information you would like to share from #NSVW16, please do not hesitate to contact us!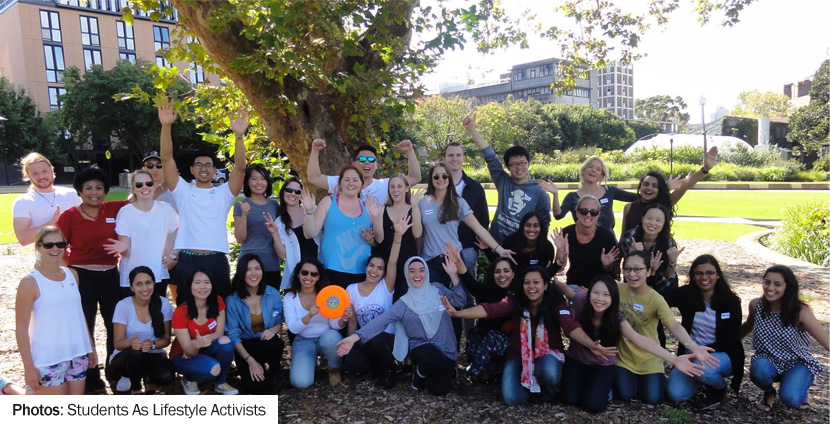 "It has given me a sense of contribution to the community and the rewards have been so worthwhile." – Adrienne, Sunnyfield Volunteer